Related Links
Recommended Links

Site News
DVD Review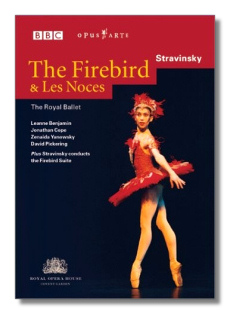 The Firebird
Les Noces
Leanne Benjamin (Firebird)
Jonathan Cope (Ivan Tsarevich)
Genesia Rosato (The Beautiful Tsarevna)
David Drew (The Immortal Kostcheï)
Zenaida Yanowsky (The Bride)
David Pickering (The Bridgegroom)
The Royal Ballet, Covent Garden
Orchestra of the Royal Opera House/John Carewe
BBC Opus Arte DVD OA0833D NTSC (OA0832D PAL) 108m
I watched the complete Firebird on Covent Garden's DVD the morning after a superlative concert performance in London by Boulez, who drew enormous subtleties from the complete original ballet score, his account with the London Symphony notable for meticulous clarity, fine balance and huge dynamic range from hushed, mysterious ppp to overwhelming climaxes. I felt at first viewing of the DVD that imagination alone might have sufficed in the first scene as well as Fokine's choreography, but not so once the castle gates opened. The eventful scenes from then on engaged eye and ear in perfect accord, Natalia Gonchorova's designs complementing the choreographic gestures, and making sense of many particular moments in the score. The cumulative excitement culminated with a gorgeous ceremonial scene of old Russia and the totality is an evocative and satisfying recreation of the first Diaghilev/Stravinsky triumph of 1910, Stravinsky in the safe hands of John Carewe.
This Covent Garden DVD has also a recreation of the cooler Les Noces, choreographic scenes realised by Bronislava Nijinska with scenery and costumes in muted colours by Natalia Gonchorova. There are interesting extras, with behind-the-scenes- rehearsal footage of The Firebird & Les Noces, and David Drew remembering Nikinska's staging of Les Noces for the Royal Ballet.
Lastly, there is included a memento of a great 1965 occasion, a crystal clear, black and white video film of the 1945 Firebird Suite made at the Royal Festival Hall, on the occasion of Stravinsky's last appearance in London conducting his own music. Frail and advancing to the podium with assistance, the composer's vitality and total command, with precise, sparing movements, galvanised the orchestra to give a blazing performance. Afterwards, responding to the long continuing ovation, he shook hands with as many orchestral players as were in reach as he left and returned to the platform unaided, finally in his overcoat with the collar turned up. I was there, had never forgotten the event, and am delighted that these marvellous images are available to view again and again.
Recommended without reservation.
Copyright © 2003, Peter Grahame Woolf