Blu-ray Review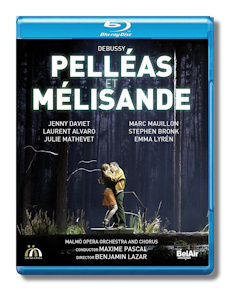 Pelléas et Mélisande
Jenny Daviet - Mélisande:
Marc Mauillon - Pelléas:
Laurent Alvaro - Golaud:
Emma Lyrén - Geneviève:
Stephen Bronk - Arkel:
Julie Mathevet - Yniold:
Stephano Olcese - Doctor/Shepherd
Malmö Opera Orchestra & Chorus/Maxime Pascal
Benjamin Lazar - Stage Director
Adaline Caron - Stage Design
Alain Blanchot - Costume Design
Mathilde Benmoussa - Make-up
Mael Iger - Lighting
Recorded Live at the Malmö Opera, Malmö, Sweden May, 2016
BelAir Classiques Blu-ray BAC544 178m PCM Stereo DTS HD-Master Audio
If you ask the average operaphile to mention some of the leading opera houses in the world, the names of the Met, Vienna State, Teatro alla Scala, Covent Garden, Mariinsky and a few others will likely make the list, but almost certainly not the Malmö Opera. Many opera lovers will probably not even know of the Malmö Opera. Yet, here is a production from this fine Swedish company that will likely draw high praise from across the globe. Not that it's a perfect effort in every respect: it's compelling in most ways, but certain aspects of the production aren't totally convincing and some of the video work, with perhaps too many closeups in places, detract from the overall effectiveness of the performance. Yes, the focus therefore turns more on the characters, which many may find a legitimate and even desirable approach, but it can strike the viewer, at least this one, as somewhat limiting visually.
The stage director Benjamin Lazar places the opera in a sort of fantasy world: the setting is a forest whose look seems to impart both a fairytale-like and mysterious atmosphere. Characters are dressed in modern-day attire and usually remain in a relatively small area in or near the center of the stage. It's as though everything has a sense of confinement, which yields an almost claustrophobic atmosphere. The Act III tower scene does not feature a tower at all, but a swing roped to a tree limb instead. Thus, warnings to Mélisande about leaning out too far and falling make little sense, except in a symbolic way. Some might also find other factors at odds, like the modern dress and presence of a king (Arkel), who in the libretto has a castle. I'm willing to mostly accept that incongruity because of the fantasy elements at play here.
In the end, these faults all seem minor, almost like nitpicking, because so much in this production is excellent. The forest itself, with its tall trees and high grass, effectively conveys a fantasy world, a mysterious place. The darkish backgrounds throughout most of the opera add to the atmosphere. And on the musical side of things, there are splendid performances by both singers and orchestra. Conductor Maxime Pascal shapes the music with clarity and a fine sense for Debussy's subtle and mostly subdued score. His tempos are on the expansive side, coming in ten to twenty minutes longer than most other recordings. Yet, Pascal makes a fine case for his more deliberate approach, bringing out much detail and plumbing, successfully I think, for greater depth. The Malmö Opera Orchestra plays with spirit and accuracy under his leadership.
The singers? They are fine, perhaps good enough to rival the casts in many bigger and grander productions from the larger and better known opera houses. Jenny Daviet as Mélisande is captivating in her innocence and she sings quite beautifully throughout. Her voice might be described as pure or slightly white in sound, and while she may lack a bit of color in her tone, she is rather perfect for the role, matching the character's often detached manner. Marc Mauillon makes a very convincing Pelléas, his demeanor youthful and bright, his voice strong and very pleasing. The rest of the cast is quite fine, but I must mention that Laurent Alvaro as Golaud and Emma Lyrén as Geneviève were particularly impressive.
The picture quality is fine and sound reproduction excellent, though, as suggested above, I thought some of the camera work focused too heavily at times on closeups. This latter feature is not a major drawback, and for some viewers it may even be regarded as a strength. Back in 2006 I reviewed the Franz Welser-Möst-led performance from the Zurich Opera on TDK (DVWW-OPPEM) and found it less than successful. This new Pelléas et Mélisande is superior to that effort, though in fairness I should mention that some critics found the Zurich production intriguing and very worthwhile. To me, it was rather weird. At any rate, I am comfortable in recommending this Malmö Opera production of Debussy's masterpiece as a prime choice in the video realm.
Copyright © 2018, Robert Cummings