Blu-ray Review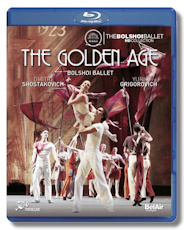 The Golden Age
Nina Kaptsova - Rita:
Ruslan Skvortsov - Boris:
Mikhail Lobukhin - Yashka:
Ekaterina Krysanova - Lyushka:
Vyacheslav Lopatin - Variety Show Compere
Ballet of the State Academic Bolshoi Theater of Russia
Orchestra of the State Academic Bolshoi Theater/Pavel Klinichev
Yuri Grigorovich - Choreography
Simon Virsaladze - Scenography and Costumes
Mikhail Sokolov - Lighting
Recorded Live - Bolshoi Theater, Moscow, Russia October, 2016
BelAir Classiques Blu-ray BAC443 1:43:00 PCM Stereo 2.0 DTS HD Master Audio
Though it enjoyed some success initially, The Golden Age, or as it was commonly known The Age of Gold, like Shostakovich's other two complete ballets, has fared rather poorly on the world's stages after its first run in the 1930-31 season at the State Academic Theater for Opera and Ballet in Leningrad. Alongside Tchaikovsky and Prokofiev, Shostakovich stands humbly in the realm of ballet. He produced no big hit – no Swan Lake or Nutcracker, no Romeo and Juliet or Cinderella. Yet, his theater music is not to be dismissed – some may in fact find it of great appeal, music that can nearly stand with his symphonies.
The score to The Golden Age is rather light and sardonic, often exhibiting a jazzy side, as well as both a 1920s Ballroom and Swing music sound world. Kurt Weill comes to mind in places too, as does George Gershwin. The orchestration is similiar in style to that of Shostakovich's Symphony #4 and Lady Macbeth of Mtsensk, contemporary works that are better known than this ballet and far more serious in mood. In the original score the music is mostly brash, showing little emotional warmth, but in this Bolshoi version, it exhibits a bit more feeling and lyrical flow. That is achieved here because some of the composer's other music – notably both slow movements in their entirety from Shostakovich's two piano concertos – were added to yield a measure of emotional depth.
Moreover, the libretto is changed rather radically to get away from the now irrelevant political aspects associated with the original version and to deal more with a modern human story, including a love story. I'll write more about the libretto later. Though additions have been made then, there are some cuts too: I reviewed a complete version of this ballet on a Naxos double-CD set here in 2007 (../n/nxs70217a.php) and its duration was 2:23:42 compared with this Bolshoi account which clocks in at 1:43:00, and that timing includes nearly five minutes for curtain calls and credits. So, the cuts are fairly substantial, though the Naxos version includes all repeats.
As for the libretto, by Isaak Glikman and Yuri Grigorovich, the story in this version is set in a seaside town in Southern Russia in the 1920s. There the Golden Age Restaurant is a favorite hangout of the people, including criminals and unsavory characters. Rita, known as Mademoiselle Margot, is a popular dancer there as is her partner Yashka (known as Jacques), who is the leader of a gang of thieves. His female accomplice is Lyushka, who has an eye for him. Boris, a young fisherman and member of a theater group, meets Rita at a town festival and they begin falling for each other. When she suddenly leaves, Boris searches for her and ends up at the Golden Age Restaurant, where he recognizes Mademoiselle Margot as the girl he's looking for. What follows is a struggle for Rita's love, as she is attracted to both Boris and Yashka. Eventually, she chooses Boris and rejects Yashka, but a jealous Yashka still pursues her. After further complications, including a brawl involving Boris's fishermen friends and Yashka's criminal gang and the killing of Lyushka by Yashka, Yashka takes Rita hostage but is caught by Boris and his friends. In the end Rita goes off with Boris and they celebrate merrily in the town square. In the original libretto, the story concerns a Soviet soccer team playing in a Western city called U-town. There they encounter the supposedly typical decadence and corruption associated with Capitalism at that time and through it all they maintain their Soviet integrity and triumph over the Bourgeoisie. There's more to the story of course, but you can see why the Bolshoi decided on the libretto change.
If I have a criticism of the music, it would be that sometimes it is stylistically all over the map, heading into so many directions, often from one number to the next. What did Shostakovich want it to be: the satiric and brash style of his Fourth Symphony and Lady Macbeth, or a carefree youthful style where he is thumbing his nose at tradition with an admixture of jazzy slapstick fare, Ivesian cheekiness, and just plain insouciant fun? I suppose you can say he wanted it to be all of these elements and maybe more. But with such an ambition does he succeed? Actually, most of the music is pretty good, though I found the Tahiti Trot, a take-off on the Vincent Youman song Tea for Two, which occurs at the beginning of Act II (Act III in the original version), a bit too long, as Shostakovich tries to milk this relatively simple tune for more than it's worth. Another minor drawback here is the substantial use of the piano, thanks to the big quotations from the concertos, and its presence seems a bit out of place. If you like your music to remain Classical in character, you won't like much of this score. But if your tastes are broader, you'll likely find the music quite engaging, even if its expressive manner is somewhat shallow.
I have absolutely no criticism of the production, which is simply splendid: sets, lighting, and costumes are fine. The dancers are excellent, from the leads – Nina Kaptsova as Rita, Ruslan Skvortsov as Boris, Mikhail Lobukhin as Yashka, and Ekaterina Krysanova as Lyushka – on down to the company dancers. Yuri Grigorovich's choreography is both imaginative and highly effective. The Bolshoi Orchestra performs with accuracy and spirit under the baton of Pavel Klinichev, whose grasp of the score is right on target: he captures the character of all the disparate styles of the music with a keen sense for its chameleonic and colorful nature.
The camera work is excellent as are the picture clarity and sound reproduction. With the reservations noted, I can highly recommend this new Blu-ray video from BelAir Classiques. For Shostakovich mavens it is an absolute must – I know of no other recorded competition on video.
Copyright © 2018, Robert Cummings