Blu-ray Review
New York City Ballet in Paris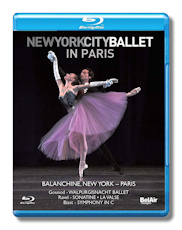 Balanchine, New York - Paris
Walpurgisnacht Ballet
Sonatine
La Valse
Symphony in C
New York City Ballet
Choreography by George Balanchine
Orchestre Prométhée/Daniel Capps
Elaine Chelton, piano solo in Sonatine
Recorded in Théâtre du Châtelet, Paris, July 2016
BelAir Classiques Blu-ray BAC439 Full-HD, PCM 2.0 DTS-HD Master Audio, 106m
Of today's top ballet companies, New York City Ballet is one of the least well represented on home video – a sorry fact the American dancers shares with their colleagues from the Royal Danish Ballet in Europe. The company preserves one of the most significant and groundbreaking choreographic legacies on the planet – with George Balanchine and Jerome Robbins at its core – and is a foremost promoter of contemporary work. Yet, even in these multimediatized times, performance videos which highlight repertory and current dancers of New York City Ballet remain a precious rarity.
What a superb idea it was, then, to film the company while on tour in Paris in the summer of 2016, performing a selection of its traditional repertory. The choice was, I assume, readily made. The connection between Balanchine and the French capital is legendary. All four ballets assembled here are set to French music and both Walpurgisnacht and Symphony in C were even created for the Paris Opera. Often with nothing but light as setting and very simple costuming (except La Valse with its hints of a ballroom and slightly decadent gowns), and utterly delightful music (Gounod, Bizet and Ravel) to boast, this program is a continuous joy and may serve as an antidote against those trying to reduce dance to darkness, violence and angst. In these troubled times a shot of Balanchine is by all means a very welcome night out. By their intelligence, musicality, sense of harmony and purity of intent, his ballets are beacons of light and hope, and by their perennial modernity, continuing sources of delight and inspiration.
Try the lovely Sonatine from 1975 on a rainy day: just two dancers and a pianist on stage, yet it all is brought with effortless dignity, simple charm, and sunlit grace by Megan Fairchild and Joaquin De Luz. In no time you will feel better. This is also a disc to admire the New York City Ballet dancers of today. Like the wonderful Sara Mearns in the romantically wild and theatrical Walpurgisnacht Ballet. Or Sterling Hyltin and Amar Ramasar both superb in La Valse (combining Ravel's Valses nobles et sentimentales with La Valse proper ), offering dramatic contrast. Finally, the irresistible Symphony in C, originally made as Palais de Cristal for the Paris Opera Ballet in 1947, a sparkling, high-octane showcase for the company's health and strength. Soloists and ensemble appear in tremendous form and if this performance is in any way representative of the current state of New York City Ballet, then the company is doing really well indeed.
With François Duplat and Vincent Bataillon as the producer-director team, well known from the successful "Bolshoi Ballet HD Collection" distributed by BelAir Classiques, we are in good hands too. They know their trade and have given us some of the best filmed ballet performance videos in recent times. New York City Ballet in Paris is no exception. The camerawork and editing is in effect pretty simple and straightforward, but you always see what you need to see in a ballet.
This video comes without any bonuses, but here is the dance speaking for itself as only Balanchine could master it, and it deserves a place in any serious ballet video collection. New York City Ballet brought several programs on its extensive 2016 Paris tour. May we hope for some more goodies, and not only the historical repertory but also its newest creations, from the treasure chest?
Warmly recommended.
Copyright © 2018, Marc Haegeman