Blu-ray Review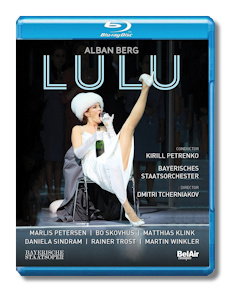 Lulu
(Act III completed by Friedrich Cerha)
Marlis Petersen - Lulu
Bo Skovhus - Dr. Schön/Jack the Ripper
Daniela Sindram - Gräfin Geschwitz
Matthias Klink - Alwa
Rainer Trost - Der Maler/Ein Neger
Martin Winkler - Ein Tierbändiger/Ein Athlet
Pavlo Hunka - Schigolch
Christian Rieger - Der Medizinalrat/Der Bankier/Der Professor
Rachel Wilson - Eine Theater-Garderobiere/Ein Gymnasiast/Ein Groom
Wolfgang Ablinger-Sperrhacke - Der Prinz/Der Kammerdiener/Der Marquis
Christoph Stephinger - Der Theaterdirektor
Elsa Benoit - Eine Fünfzehnjährige
Conrelia Wulkopf - Ihre Mutter
Heike Grötzinger - Eine Kunstgewerblerin
John Carpenter - Ein Journalist
Leonard Bernad - Ein Diener
Nicholas Reinke - Der Polizeikommissär
Bavarian State Orchestra/Kirill Petrenko
Dmitri Tcherniakov, stage director and set designer
Elena Zaytseva, costume designer
Gleb Filshtinsky, lighting designer
Tatiana Baganova, choreographer
Recorded live at the Bayerische Staatsoper, Munich, May 2015
BelAir Classics Blu-ray BAC429 2:58:10 PCM Stereo; Dolby Digital
This is the complete three-act version of Berg's Lulu as realized by composer Friedrich Cerha, who orchestrated much of the music in the Third Act from Berg's sketches, some of which contained indications for instrumentation. Without doubt this completed version is the best way to present this complex opera. The stage director and set designer here, Dmitri Tcherniakov, offers a very provocative and compelling take on this masterpiece, but more than a few operaphiles will likely have strong reservations about his bold and individual view of the work. While it's not a radical reinterpretation of the opera, at least by today's standards, it still strays from more traditional views of the story, not only in placing it in a different time but in a more abstract realm.
Apart from chairs and a few other sparse furnishings, the sets consist entirely of linked rectangular plexiglass cubicles placed across the stage that are transparent but sometimes reflect images. Connected by thin metal stanchions, these enclosures serve in effect as little rooms. They have openings for entrance and exit by the opera's characters, but when they are occupied it is usually by background extras who are mostly paired up as male and female couples. The action takes place almost exclusively in front of the enclosures.
The Painter in the First Act doesn't use a canvas but instead paints on the surface of the glass. There he creates Lulu's silhouette, where it remains, like a sore thumb, throughout the First and Second Acts and the last half of the Third, possibly as a symbol of the emptiness of her character, her lack of a soul. Or could this barren outline of a portrait mean she is indefinable in her complexity, and therefore must appear as a blank figure? Costuming updates the story to the current day. Lighting in the front of the stage is generally bright, but the enclosures behind are often dark, especially when not occupied.
The overall effect of Tcherniakov's treatment is one in which Berg's Lulu adapts to the darker side of our contemporary age, the story's blood running liberally and its emotions just trickling. One can clearly discern a definite sense of coldness and brutality here, traits we can usually associate with this opera anyway. Thus, while Berg's music is sometimes quite warm and lyrical (it's not as atonal as many perceive), Tcherniakov's icy treatment fits it well, nevertheless. That said, Lulu's feelings here do come across, both as depression and disappointment, issues relating to her own inner demons, however, rather than to concern for others. By the way, her demise in the last act comes from these "inner demons", though I won't reveal how she dies, but will say it's not exactly at the hand of the Ripper.
There is another way one might interpret this opera, especially as shown in this production–and that is as a black comedy. When the Animal Trainer comes on stage at the opening to address the audience and speak of his menagerie, a truer depiction of the characters in this sordid story could hardly be spoken. Lulu is, let's face it, a screwball and so are many of the other characters here–and they're not loveable screwballs. They stumble through life, driven by their greed and hunger for sex and love, which often seem to be the same thing here. When you see Lulu writhing on the floor in the Third Act, intoxicated, speaking of finances and begging the Countess to save her by seducing the acrobat, you feel Lulu's desperation alright, but also notice the absurdity and pathetic comedy of it all. Anyway, here's the upshot: while this production clearly has something very valid and compelling to say, one still notices the manipulation employed to make its points. That said, while its seams may show in places, it is nevertheless a compelling and quite imaginative effort.
But what ultimately makes this an outstanding performance is the portrayal of Lulu by German soprano Marlis Petersen. She is simply stunning in the role: she is a very sexy and very pathetic Lulu, and that combination works just fine here. Has anyone ever portrayed the character more effectively? She has done Lulu more than ninety times over the last two decades, and in ten different productions, including at the Met and other major venues. Arguably, she knows the character and music of Lulu as well as or better than any other soprano who's ever sung this challenging role. When you watch and listen to Ms. Petersen you sit in awe of her considerable vocal talents, her acting skills and camera presence, her intensity, her sleek and graceful movements, and her confidence in having a total grasp of the happenings on stage.
Bo Skovhus is excellent in the roles of Dr. Schön and Jack the Ripper, and Daniela Sindram as Countess Geschwitz and Pavlo Hunka as Schigolch are also very effective. The remainder of the cast is quite impressive too. Kirill Petrenko draws spirited performances from the Bavarian State Orchestra. Camera work, picture clarity and sound reproduction are all first rate. I reviewed another video recording of Lulu here 2012 (Unitel Classica/Kultur DVD D4779), which I found very satisfying in most respects. This new one from BelAir Classics, however, clearly eclipses that fine effort. As a final thought, I'll surmise that this new Lulu will likely be the recording of choice for some time to come, at least on video. Thus my advice is, if you find this opera as fascinating and compelling as more and more opera lovers do, snatch up this BelAir Classics blu-ray ASAP!
Copyright © 2018, Robert Cummings