Related Links
Recommended Links

Site News
SACD Review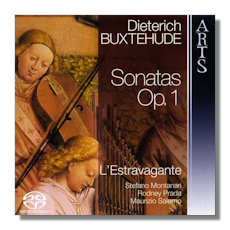 Sonatas for Violin, Viola da Gamba and Cembalo, Op. 1
Sonata I in F Major, BuxWV 252
Sonata II in G Major, BuxWV 253
Sonata III in A minor, BuxWV 254
Sonata IV in B Flat Major, BuxWV 255
Sonata V in C Major, BuxWV 256
Sonata VI in D minor, BuxWV 257
Sonata VII in E minor, BuxWV 258
L'Estravagante
Arts 47731-8 Hybrid Multichannel SACD 60:30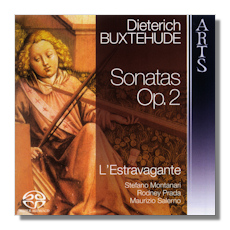 Sonatas for Violin, Viola da Gamba and Cembalo, Op. 2
Sonata I in B Flat Major, BuxWV 259
Sonata II in D Major, BuxWV 260
Sonata III in G minor, BuxWV 261
Sonata IV in C minor, BuxWV 262
Sonata V in A Major, BuxWV 263
Sonata VI in E Major, BuxWV 264
L'Estravagante
Arts 47732-8 Hybrid Multichannel SACD 67m DDD
Dietrich Buxtehude was regarded as one of the greatest composers of his time and many musicians came from all over Europe to listen to him and also to learn important instructions that would serve them in their later careers.
It was said that even the great J.S. Bach traveled hundreds of miles just to hear Buxtehude play. His abilities on the organ were legendary and his compositional knowledge was the cause of amazement and admiration.
The 12 trio sonatas, Op. 1 and 2 recorded on these two separate discs include some of the composer's most beautiful chamber music, and they are the only works from all his pieces composed that were ever printed.
L'Estravagante play with impressive commitment and persuasive artistry, and in their hands, the music shines in all its radiant simplicity. To my mind, these interpretations hold the answer to why Buxtehude's contemporaries found these works so fascinating. The high quality sound and informative notes complete two superlative additions to the Buxtehude canon.
Copyright © 2008, Gerald Fenech