Related Links
Recommended Links

Site News
CD Review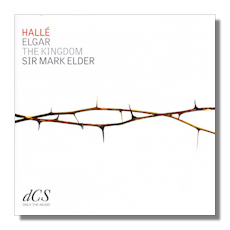 The Kingdom, Op. 51
Claire Rutter, soprano (Blessed Virgin Mary)
Susan Bickley, mezzo soprano (Mary Magdalene)
John Hudson, tenor (St. John)
Iain Paterson, bass (St. Peter)
Hallé Choir
Hallé Orchestra/Mark Elder
Academy Sound & Vision Hallé CDHLD7526 2CDs 94m DDD
Mark Elder's sublime series of Elgar's works with the Hallé Orchestra continues with this superb rendition of "The Kingdom" recorded live in the Bridgewater Hall in October 2009. Probably the finest of his oratorios even superseding Gerontius in some areas, this work is notoriously difficult to bring off. Sir Adrian Boult's recording was for many decades the yardstick by which others were judged but now that legendary EMI set must yield to this superbly recorded issue.
Elder paces the work with knowing panache and his eye for detail is almost revelatory. Take, for instance the orchestral introduction to Part IV where the strings are almost palpable and the ravishingly beautiful "Repent and be baptized" ending Part III where Iain Paterson truly surpasses himself in his singing.
Rutter and Bickley are also soloists of the highest quality on all counts while John Hudson also brings a palpable feel to the perhaps overlooked part of St. John. The Hallé recording is top notch in every department and with full texts and copious notes provided; I really cannot see any rival coming close to this definitive recording for some time to come.
Copyright © 2011, Gerald Fenech