Related Links
Recommended Links

Site News
CD Review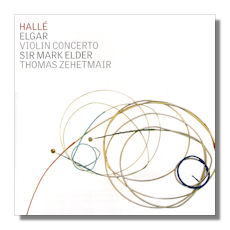 The Kingdom, Op. 51 - Prelude
Violin Concerto in B minor, Op. 61
The Dream of Gerontius - Prelude & Angel's Farewell
Thomas Zehetmair, violin
Alice Coote, mezzo-soprano
Hallé Orchestra/Sir Mark Elder
Hallé CDHLL7521 75m DDD
This splendid CD continues the Hallé Orchestra's rather excellent series devoted to Elgar under the baton of the renowned Elgarian Mark Elder. We have already had splendid recordings of the symphonies, the Cello Concerto, Enigma Variations and most recently a "Dream of Gerontius" which is right up there with the very best.
The orchestral items on this disc are hugely interesting as they have never been available in these versions. The Prelude to "The Kingdom" is highly emotional with big washes of orchestral sound ravishingly played by the Hallé and this makes an ideal opening to the disc. I also enjoyed Elgar's version of the Gerontius Prelude and Angels' Farewell which sounds equally ravishing in this guise without chorus.
Zehetmair is a hugely accomplished violinist and he brings a certain personal élan to proceedings rather in the manner of previous greats such as Nigel Kennedy and Ralph Holmes who remain up there with my favourites. The sound is absolutely first class and Elder's accompaniment is truly of top drawer quality. I would easily say that this is up there with the very best.
Great stuff then and with fastidiously detailed notes and a fulsome playing time of close to 75 minutes, this is surely a disc for any consummate Elgarian.
Copyright © 2010, Gerald Fenech