Related Links
Recommended Links

Site News
CD Review
Conrado Del Campo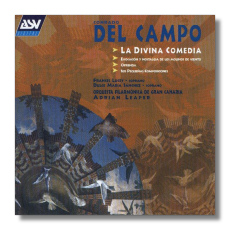 Orchestral Works
Symphonic Poem "La Divina Comedia"
Ofrenda for Orchestra & Soprano
Overture "Evocación y Nostalgia de Los Molinos de Viento" (Obertura Poemática)
Seis Pequeñas Composiciones for Female Chorus & Orchestra
Frances Lucy, soprano
Dulce Maria Sanchez
Coro' e Orquesta Filarmonica de Gran Canaria/Adrian Leaper
Academy Sound & Vision CDDCA1100 79m DDD
AS&V is continuing to discover a batch of Spanish composers that have been neglected over the years and their latest stunning discovery is the music of Conrado Del Campo.
'La Divina Commedia' – 'El Infierno' is a superb work, combining traces of Tchaikovsky and Liszt are present but the fusion of melodies and splendidly virulent orchestration are evidence of a master at work. The Evocación is a late work dating from 1952 and here Del Campo toys with some modernist touches but always keeping within a romantic framework. Ofrenda is a cycle of dance pieces also including soprano, particularly enthusing is the third dance that is full of orgiastic colour so typical of Andalusian rhythm. The Sei Pequeñas Composiciones are all very beautiful and also explore various shades of orchestral colour with the voices and chorus blending quite disarmingly.
The complex music seems to be no obstacle for the superb Adrian Leaper who interprets all works with panache and a knowing flair for the Latin rhythms. This is indeed quite a major discovery and will continue to shed much needed light on the often neglected Spanish school. After Halffter this is certainly a disc to acquire.
Copyright © 2002, Gerald Fenech