CD Review
Spanish Composers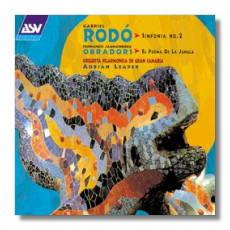 Fernando Jaum Andréu Obradors: El Poema de la Jungla
Gabriel Rodó: Symphony #2
Orquesta Filarmónica de Gran Canaria/Adrian Leaper
Academy Sound & Vision CDDCA1043 DDD 65:26
There's more to Spanish classical music than Albéniz and de Falla. Both works included on this new CD, the first in a major series devoted to Spanish composers, were written by men who were regular conductors of the orchestra that plays them here. Fernando Jaum Andréu Obradors (1897-1945) and Gabriel Rodó (1904-1963) were born in Barcelona but spent a significant portion of their professional lives working in the Canary Islands before going elsewhere to die – Obradors back to Barcelona, and Rodó (an exile, thanks to his anti-Franco politics) to Bogotá.
These works are far less nationalistic than those that we think of first, when we think of Spanish composers. Either could be the work of a Frenchman, and there were several moments in El Poema de la Jungla when I could have been convinced that I was listening to Delius! Composer Charles Koechlin's response to Kipling's Jungle Book was a massive collection of symphonic poems. El Poema de la Jungla says as much, and is one-third as long. The first movement gives the impression of a leisurely and peaceable procession of Kipling's characters. The second movement, a Nocturne, has had a minor existence apart from the larger work. It is a gorgeous piece of musical impressionism, lovingly orchestrated and tellingly restrained, and redolent of warm, fragrant nights. The largest movement is the third and last. Marked Maestoso, it is heavier in tone and more forceful in voice – albeit never overbearing – than the previous two. Anyone who likes Ravel or Debussy should respond to Obradors's attractive El Poema de la Jungla.
Rodó's Symphony #2 invites similar comparisons, although it is more reliant on sweeping melodies and psychological drama. The first movement starts quietly and increases in romantic fervor. Its passions, however, seem less romantic than moral, if one accepts that music can express such an attitude. The second movement, marked Allegro, is a bustling scherzo with contrasting slower passages. In the third movement, the main theme's claustrophobic character made a curious impression on me: in this music, I heard a troubled man quite unable to "get it off of his chest." All is dissipated in the Finale, whose confident air is established by the many fantastic trumpet fanfares that run throughout its length. Here, Rodó's music seemed to share something with one of Respighi's flashier works.
A first-class orchestra probably would help these two works to make an even more favorable impression, but the Orquesta Filarmónica de Gran Canaria is more than adequate. The only definite shortcoming I noticed was a tendency for rhythms to be not as sharp and precise as they might be. Tony Faulkner's engineering is up to AS&V's high standards. This is an interesting release in every way, particularly so if you are looking for colorful and firmly tonal works from the years around World War Two.
Copyright © 1999, Raymond Tuttle