DVD Review
Nederlands Dans Theater - Jiří Kylián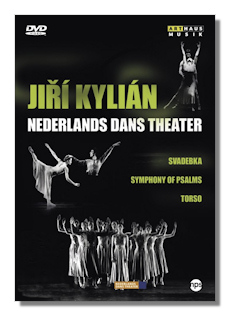 Ballets
Svadebka (Les Noces)
Symphony of Psalms
Tōru Takemitsu: Torso
Nederlands Dans Theater/Jiří Kylián
Arthaus Musik DVD 102115 68:00 LPCM Stereo Fullscreen
Born in 1947, Prague-born choreographer Jiří Kylián has, for several decades, been one of the most distinctive figures in the world of modern dance. Originally a dancer himself, his unusual talent was recognized even before he was a teenager, and after he left Czechoslovakia (a departure which became permanent in 1968), he became a member of the Stuttgart Ballet. In 1973, he began his association with the Nederlands Dans Theater as a choreographer, and that association continues to the present time, although he stepped down as the company's artistic director around 2000.
This DVD contains some of his earlier work. His version of Svadebka (interesting to compare it with Bronislava Nijinska's original, also available on DVD) dates from 1982, and was recorded by Dutch television two years later. Symphony of Psalms premièred in 1978 and was recorded in 1983. Torso, also recorded in 1983 (this time by Swedish television) was premièred in 1975. Before going any further, let me say that these video documents show their age; they are often grainy, and the sound in Symphony of Psalms is coarse. (The recording used is Leonard Bernstein's, with the London Symphony Orchestra.) Still, one is glad to have these performances – or perhaps it is more accurate to call them studio recreations, as there is no trace of an audience – available on DVD to study and to enjoy.
Svadebka's ugly sets and costumes might remind you of a high school production of Oklahoma! It's easy to forget them, however, given the potent dancing of the members of NDT. Kylián adheres to the ballet's original story, which depicts the marriage preparations of a bride and groom in rural Russia, attended by friends and family. The ballet closes with a wedding feast, and with the wedded couple being shown into the bridal chamber by the guests. Kylián's choreography emphasizes the role of the bride's and groom's community, and although there are many solo dancers, this is essentially an ensemble piece. His fondness for angular body-shapes and jerky, awkward, yet somehow touchingly eloquent movements suits this ballet well. For a modern work and a very modern choreographer, Kylián's Svadebka is quite traditional, but never dull.
Symphony of Psalms is even more of an ensemble piece, but its mood is much darker than the uncertain yet essentially positive Svadebka. In this community, there is togetherness but little freedom and communication. When they are not actually dancing, the performers often have their backs turned, and when they are dancing, the interactions within the couples are often tense and sometimes even abusive. Whether a crisis of faith – running as an ironic counterpoint to the very faith-driven text – or a crisis of some other type has taken place is unclear, however. (An additional level of irony comes from the use of Bernstein's recording, which is the most meltingly lovely I know.) Despite its grim impersonality, Symphony of Psalms is gripping stuff.
Torso is for just two dancers, Leigh Warren and Sabine Kupferberg (Kylián's wife). Takemitsu's edgy, Ligeti-like orchestral score is at the center of the work, and it is framed by a cacophony of unnervingly echoic whispers, which I think were supplied by the Swedes. The ballet begins and ends with anguished, athletic solos for Warren. When Kupferberg enters, we are not sure whether she is real or a figment of Warren's excited imagination. In any event, she makes the Swedish whispers go away, but she herself leaves after having shared Warren's distress without easing it. Again, this is a grim work, but it feels more personal than Symphony of Psalms.
Kylián's work with NDT over the course of several decades shaped them into an ensemble that spoke his language as if they were born speaking it. These performances capture them quite early in their work together, and one feels the excitement rising from the dancers' bodies like waves of heat. This is a short DVD for its list price of almost $30, but there's plenty here to watch, re-watch, and reconsider.
Copyright © 2009, Raymond Tuttle