DVD Review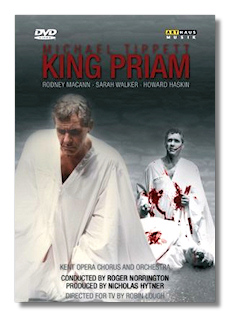 King Priam
Rodney Macann (King Priam)
Sarah Walker (Andromache)
Howard Haskin (Paris)
Anne Mason (Helen)
Janet Price (Hecuba)
Neil Jenkins (Achilles)
Omar Ebrahim (Hector)
Kent Opera Chorus and Orchestra/Roger Norrington
Arthaus Musik 102087 DVD 128:00 Full Screen LPCM Stereo
Tippett's second opera does not have a tight hold on the repertoire – it has been revived only a dozen times since its 1962 première – but it does the composer's reputation no injury, and it works very well on television. Tippett's own libretto, based primarily on the Iliad, is not epic in scale. Instead, it is a penetrating examination of the main characters and their psyches, and a critical look at war (Tippett was a pacifist) and at the outcomes of difficult ethical choices. In act I, Priam orders his infant son Paris to be killed because Queen Hecuba's dreams foretell that Paris literally will be the death of Priam. Paris is not killed, however, but taken away, and reunited with Priam many years later during a hunting expedition. At the urging of his older son Hector, Priam agrees to take Paris back to Troy, defying the fatal augury. Eventually, however, Paris provokes the Trojan War by stealing Helen from her Greek husband Menelaus. The Greek warrior Achilles draws back from battle because he has been insulted by King Agamemnon, but when his beloved Patroclus fights in his stead and is killed by the Trojans, Achilles springs into action. In the final act, Troy lies in ruins, its warriors slain and women enslaved. Priam begs Achilles for the body of Hector, after having defiled Patroclus' body earlier in the opera, and Achilles relents. Has the cycle of violence been broken? No: Priam muses on the choices he made and suddenly is killed by Achilles's son Neoptolemus.
Tippett uses leitmotifs for some of the characters, and there are monologues, but King Priam has no arias per se, and is about as far from a "numbers opera" as one can get. The music is jagged and the vocal writing declamatory and often melismatic. Its sole function is to clarify and intensify the text; it is difficult to imagine Tippett's music separated from Tippett's text. In other words, King Priam has little to offer those who are seeking out light or genteel entertainment. Nevertheless, it is an interesting and sometimes gripping opera for those who want a bare-bones musico-dramatic experience.
This production, directed for television in 1985 by Robin Lough after a production staged for the Kent Opera by Nicholas Hytner, came just three years after the opera's sole, at least to this day, audio-only recording (originally issued on Decca, now reissued on Chandos). The CDs feature excellent performances by top-name singers, and duly won a Gramophone award. The Kent Opera performance is on a slightly lower plane, vocally speaking, although Sarah Walker's Andromache is very distinguished, and it would be unfair to complain that any of the singing is truly unsatisfactory. The singers' acting ability and appearance seems to have been taken into consideration in casting them, and so where this DVD comes into its own is in the watching, more than in the listening. Even under the critical eye of the television cameras, this King Priam holds up nicely. Made-for-TV opera rarely looks this good.
Hytner sets this King Priam in a vague time and place. Pea coats and posing straps rub shoulders, and once one leaves the elegant, bland coolness of Priam's palace, one encounters urban decay or barbed wire. The loving relationship between Achilles (a bear if I ever saw one!) and Patroclus is not made too explicitly homoerotic, but Hytner made my eyebrows soar when, after Patroclus' killing, Hector, Paris, and Priam voluptuously smear each other's naked chests with blood from the dead hero's chest. That scene is compromised as well by someone's decision to add echo effects to Achilles' enraged war-cry. Achilles also appears as a sort of incensed "thought bubble" over the heads of the bloodied victors. Yes, yes, we get the point! I'll also comment here that baritone Omar Ebrahim, in his late twenties, was a fine-looking Hector indeed in 1985, and so it is a little odd that Sarah Walker, as his wife Andromache, was obviously a good dozen years older than him. (Was Hector into older women?)
Arthaus Musik would have us believe that the playing time of this DVD is 138 minutes; it is some 10 minutes shorter. Other than that, I have no complaints about the visual presentation (4:3, fullscreen) and the sound. The English subtitles – which you won't need, probably, because the singers enunciate clearly – sometimes differ slightly from what is being sung, which makes me wonder if Tippett made minor revisions to the libretto at one point.
Copyright © 2008 by Raymond Tuttle