DVD Review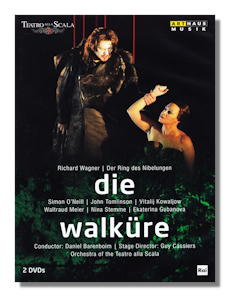 Die Walküre
Nina Stemme (soprano) - Brünnhilde
Vitalij Kowaljow (bass) - Wotan
Simon O'Neill (tenor) - Siegmund
Waltraud Meier (mezzo) - Sieglinde
Sir John Tomlinson (bass) - Hunding
Ekaterina Gubanova (mezzo) - Fricka
Danielle Halbwachs (soprano) - Gerhilde
Carola Hoehn (soprano) - Ortlinde
Ivonne Fuchs (mezzo) - Waltraute
Anaik Morel (mezzo) - Schwertleite
Susan Foster (soprano) - Helmwige
Leann Sandel-Pantaleo (mezzo) - Siegrune
Nicole Piccolomini (contralto) - Grimgerde
Simone Schroeder (contralto) - Rossweise
Orchestra of La Scala/Daniel Barenboim
Recorded at La Scala, Milan, 7 December 2010
Arthaus DVD 101694 2DVDs LPCM Stereo Dolby Digital
The legendary 1992 Barenboim and Kupfer Bayreuth Ring is a hard act to follow – right at the top of most rankings of filmed Ring cycles and probably one of the best recorded cycles period. But the 2010 Ring cycle at La Scala, conducted by Daniel Barenboim and produced by Guy Cassiers, was very well received and Arthaus are to be thanked for bringing the cycle out on DVD and Blu-ray with very fine sound and picture.
Cassiers's staging of Die Walküre is imaginative and engaging, deepening the drama rather than detracting from it. Hunding's hut is more psychodrama than habitation, which is absolutely fine in my book – the only feature is the sword left by Wotan in the tree trunk. Acts II and III are also uncluttered, with skillful use of video projections and an unusual but successful representation of the forest through thin hanging strips. The horses are represented statically through statues, while color changes within a predominantly blue and green color scheme are used to good effect.
John Tomlinson represents the main continuity with the 1992 cycle. Then he was an inspirational Wotan. Here he sings the much more modest character role of Hunding and sings it very well indeed. So well, in fact, that he rather overshadows Vitalij Kowaljow's Wotan. The singing from the other two principals besides Hunding in Act 1 is very strong. Simon O'Neill is a fine Siegmund, at the lyrical end of the spectrum but rock solid. The everlasting Waltraud Meier (who sang Waltraute in the 1992 cycle) is a wonderful and passionate Sieglinde. The duet in Scene 3 is dynamically conducted and very successful. The partnership continues to work very well in Act II, where Meier is very moving as Sieglinde and O'Neill is absolutely at his best in the duet with Brünnhilde while Sieglinde sleeps.
To the extent that the cast has a weak link it is Kowaljow, but he gets much better as the evening progresses. At the beginning of Act II he lacks depth and presence and Ekaterina Gubanova's Fricka seems to get the better of him. She is certainly more forceful, although herself lacking some expressive nuances. Kowaljow warms up in the second scene, particularly in the long soliloquy. He couldn't really be described as a tragic hero, but by Wotan's Farewell at the end of Act III he is sounding majestic.
Nina Stemme's Brünnhilde comes into Act II firing on all cylinders and manages to raise Vitalij Kowaljow's game. Stemme acts very well, capturing Brünnhilde's loss of certainty and lack of comprehension during the initial encounter with Wotan and then her grappling with the consequences of being more faithful to Wotan's wishes than he himself is able to be. Stemme has a fine voice and can modulate it expressively. She and Meier are very superior singers indeed.
Daniel Barenboim cements his reputation as an outstanding Wagnerian. The timings suggest slow tempi, but the music flows dynamically and dramatically. This Walküre is highly recommended. It does not scale the heights of the 1992 Bayreuth recording, but it is an intelligent production with an outstanding conductor and some of today's finest Wagner singers.
Copyright © 2014, José Luis Bermúdez