DVD Review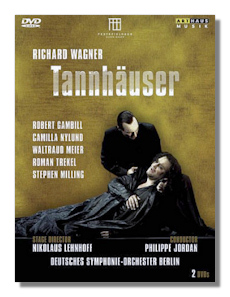 Tannhäuser
Tannhäuser – Robert Gambill
Elisabeth – Camilla Nylund
Venus – Waltraud Meier
Wolfram von Eschenbach – Roman Trekel
Landgraf – Stephen Milling
Walther von der Vogelweide – Marcel Reijans
Biterolf – Tom Fox
Reimar von Zweter – Andreas Hörl
Heinrich der Schreiber – Florian Hoffmann
Ein junger Hirt – Katherina Müller
Philharmonia Chor Wien
Deutsches Symphonie-Orchester, Berlin/Philippe Jordan
Nikolaus Lehnhoff, stage director
Recorded live at the Festspielhaus, Baden-Baden, 2008
Arthaus Musik 101351 2DVDs LPCM Stereo Dolby Digital DTS Full Screen
Perusing the list of cast members, conductor and stage director, the reader can see that this is a major production – and visually and aurally it comes across that way. In the second scene Robert Gambill as Tannhäuser and Waltraud Meier as Venus are thrilling. Meier's Zieh hin, Wahnbetörter is delivered with passion and total conviction. Her voice is beautiful and powerful in the upper ranges, though she occasionally has a vaguely down-in-the-well thickness on certain low notes. But that last shortcoming is miniscule, and I almost feel guilty for mentioning it, because her performance overall is so compelling.
Gambill is consistently excellent throughout – his energy and commitment never flag. Camilla Nylund as Elizabeth is splendid as well, from her first appearance at the beginning of Act II (Dich, teure Halle, grüß' ich wieder). Her high notes are especially thrilling, but she also sings well throughout her range. Other singers in the cast are nearly as good – Roman Trekel as Wolfram, Stephen Milling as the Landgraf, Tom Fox as Biterolf and Katherina Müller as Ein junger Hirt, to name some.
Young Philippe Jordan conducts with a fine sense for drama, with well chosen tempos and fine phrasing. The chorus, so essential in this opera, sings brilliantly throughout and the orchestra plays with spirit and accuracy.
But, you ask, what about the sets and costuming? Nikolaus Lehnhoff will, I suppose, always generate a level of controversy with his often mysterious-looking, rather barren sets and "modern" treatments. Here, there is a circular stairway in the center of the stage throughout all three acts. I guess, considering the subject matter of this opera – the meaning of life, good, evil, etc. – one could interpret it as a pathway to choice, to fate. Whatever. I think the production works – it's colorful (try the opening of the Fourth Scene in Act II, The Entrance of the Guests), and it's thought-provoking. True, some of the costuming in the opera looks a little ridiculous (the gold outfits of the six singers in Act II) and the use of a microphone when the Landgraf addresses the guests in Act II is a bit out of place (intentionally anachronistic?). Still, on the whole, this is a fine Tannhäuser: it would be hard to beat for its singing and orchestral playing, and if you find the production to your liking, it might well rank among the very best Tannhäusers ever issued. Recommended.
Copyright © 2009, Robert Cummings