DVD Review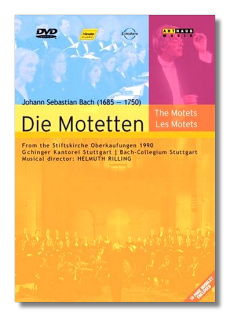 Motets
Gächinger Kantorei Stuttgart
Bach-Collegium Stuttgart/Helmuth Rilling
Arthaus Musik DVD 101169 LPCM Stereo 97min
The standard six motets are included here (BWV 225-230), plus four additional motets: O Jesu Christ (BWV 118, usually included among the cantatas), Ich lasse dich nicht (BWV Anh. 159, only recently identified as a work by Johann Sebastian Bach), Jauchzet dem Herren (BWV Anh.160/231), and Der Gerechte kommt um (BWV deest). Plaintive in mood, the latter motet is a particularly welcome addition to this DVD.
The venue for this taping was the Stiftskirche Oberkaufungen in 1990; no audience was present. The cameramen take little notice of the church itself, except between the motets, but the venue's presence can be felt in the pleasant warmth and depth of the sound. (The audio format is LPCM Stereo, One only mildly irritating curiosity worth mentioning here is a little bit of what sounds like pre-echo.) Instead, the singers of the Gächinger Kantorei Stuttgart receive most of the visual attention, unusually in smaller groups, with infrequent cuts to Rilling (whose baton-less style of conducting is physically buoyant) and even more infrequent cuts to the instrumentalists of the Bach-Collegium.
Rilling founded the Gächinger Kantorei in 1953, but most of the present choristers appear to be in their 20s and 30s. Approximately forty of them are used in these performances. In the double motets, the two choirs are arranged antiphonally. My only criticism about their singing is that the first sopranos sound raw in some of the motets - the result, perhaps, of a marathon taping session?
The conductor prefers historically informed performances, but not literal recreations of performances from the time of Bach. There's nothing about the interpretations or about the musicianship in general that calls attention to itself; Bach is the focal point. Rilling, like Robert Shaw, steers a modest middle-ground with no surprises. His performances wear well, although I wouldn't fault anyone who wanted to vary his or her diet with a more incendiary interpretation now and then.
The DVD includes no bonuses. There are optional subtitles in German, English, French, and Spanish.
Copyright © 2003, Raymond Tuttle