CD Review
Aaron Jay Kernis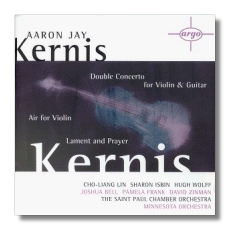 Air for Violin & Orchestra*
Double Concerto for Violin, Guitar & Orchestra **
Lament and Prayer ***
* Joshua Bell, violin
** Cho-Liang Lin, violin
*** Pamela Frank, violin
** Sharon Isbin, guitar
* Minnesota Orchestra/David Zinman
Saint Paul Chamber Orchestra/Hugh Wolff
Argo 460226-2 DDD 68:48
I was fortunate enough to interview him several years ago, and I can say, based on our conversation, that composer Aaron Jay Kernis is a darn nice guy. Having laid my potential lack of objectivity on the table, please hear me when I claim that Kernis, not even 40 years old, already has several works to his credit that I rank among the finest in American classical music. This new disc of his music for violin and orchestra is not a disappointment, and it handily demonstrates the composer's comfort with a variety of styles and emotional intensities. It's one of the best new CDs of 1999.
The Air for Violin originally was written in 1995 for Joshua Bell; Kernis later orchestrated it, and it is that version which is recorded here. Bell might have been the first performer, but Kernis was thinking of his wife, Evelyne Luest, when he wrote it – this sounds like a love song to me. Over the course of 11 minutes, Kernis spins out a very long line (a perfect match for Bell's talents), and while Aaron Copland's wide-open-spaces music often came to mind as I was hearing Air, the decorative touches and little flashes of drama – often associated with a quirky bit of scoring – are all Kernis.
The other bookend is Lament and Prayer; each one of those activities is assigned a movement of its own. Here, violinist Frank plays the role, not of an opponent to the orchestra, but of its spiritual leader, calming, commiserating, and inspiring. The rhythmic freedom and chanted character of the melodic material is derived from Hebrew cantillation, and anyone who knows the dark sounds that issue from an Orthodox synagogue during times of trouble and mourning will recognize these sounds again in Lament and Prayer. This is music of wild, even painful intensity, and yet also of intense, rock-solid faith. Kernis wrote it "in commemoration of the 50th anniversary of the end of World War II and the Holocaust," and Frank plays with appropriate emotion.
In between is the Double Concerto for Violin & Guitar. Kernis wrote this specifically for Isbin and Nadja Salerno-Sonnenberg, acknowledging the unusual combination of solo instruments and the probable rareness of performances by other than the performer-dedicatees. Any work for guitar and orchestra presents challenges of balance, and the addition of a attention-getting instrument such as the violin only increases the challenge. Perhaps Kernis isn't entirely successful in making the guitar an equal partner in this concerto (it really struggles to find its voice in the middle movement), but that is the work's only shortcoming. The jazzy outer movements tip a hat to popular culture much as Ravel's Piano Concerto in G does. And, like Ravel's work, the central movement is a nocturne that generates a lot of night sweat. Again, Kernis's gift for finding interesting orchestral timbres is very evident. Lin plays with his customary sweet tone, and Isbin, always a fine guitarist, makes the most of her opportunities.
Copyright © 1999, Raymond Tuttle