Related Links
Recommended Links

Site News
CD Review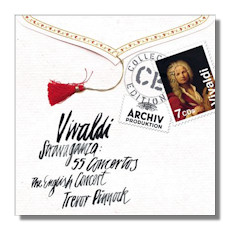 The Four Seasons, Op. 8 #1-4
12 Concerti "L'estro armonico", Op. 3
12 Concerti "La stravaganza", Op. 4
6 Concertos for Flute, Op. 10
Concerto "per l'orchestra di Dresda", RV 577
Concerto for 2 Mandolins in G Major, RV 532
Concerto for 2 Violins & 2 Cellos in G Major, RV 575
Concerto for 2 Violins in G Major, RV 516
Concerto for Bassoon in E minor, RV 484
Concerto for Bassoon in F Major, RV 485
Concerto for Flute in G Major, RV 436
Concerto for Oboe & Bassoon in G Major, RV 545
Concerto for Oboe & Violin in B Flat Major, RV 548
Concerto for Oboe in A minor, RV 461
Concerto for Oboe in C Major, RV 449
Concerto for Recorder in C Major, RV 444
Concerto for Strings in A Major, RV 159
Concerto for Strings in B Flat Major, RV 166
Concerto for Strings in D minor, RV 128
Concerto for Strings in G Major "Alla rustica", RV 151
Concerto for Strings in G minor, RV 156
Concerto for Viola d'amore & Lute in D minor, RV 540
Concerto for Violin in E Major "L'Amoroso", RV 271
Concerto in C Major "com molto stromenti", RV 558
Sinfonia for Strings in B minor "Al Santo Sepolcro", RV 169
Simon Standage, violin
Peter Hanson, violin
Walter Reiter, violin
Micaela Comberti, violin
Miles Golding, violin
Elizabeth Wilcock, violin
Jaap ter Linden, cello
David Watkin, cello
Jane Coe, cello
Peter Holtslag, recorder
Lisa Beznosiuk, flute
Paul Goodwin, oboe
David Reichenberg, oboe
Milan Turkovic, bassoon
Robin Jeffrey, mandolin
James Tyler, mandolin
Nigel North, lute
Roy Goodman, viola d'amore
Trevor Pinnock, harpsichord & organ
The English Concert/Trevor Pinnock
Archiv Collector's Edition 4790135 7CDs
Whether you need or even want 55 assorted Vivaldi concertos will largely be a matter of personal taste. I find that even as a non-fan, these seven discs are worth having, if only because the general idea that the composer wrote the same thing endlessly is disproved. Additionally, I can justify never buying this music ever again. The new "Collectors Edition" sets from Universal have generally done one of two things. Either they have brought out new sets that are uniquely constructed or hard to find, or they have taken older sets in the series and added new things to the previous issue. This is one of the latter boxes. Whereas the earlier box (simply titled "Concertos", mixed some miscellaneous concertos from this collaboration together over five discs, this newer set claims to contain all of the Vivaldi concertos from the English Concert/Pinnock years within seven. Life is too short to confirm that this is complete, but you get just under two more hours of music in this edition at a very reasonable price. Speaking of reasonable, something that isn't concerns the former set, still sitting around on Amazon on the cheap while this one probably gets overlooked. Silliness.
While the box exterior positively screams "random hodgepodge", this is happily not so. The Four Seasons are here, because they have to be. Perhaps the performers felt the same way; this is the fourth time I have tried this reading, and the fourth time I have disliked it. Simon Standage plays exceptionally well, and certainly this was one of the better period efforts early on. There's no denying that this is less special than it used to be, given the great number of competitors since. I do appreciate it more than previously. On the other hand, La Stravaganza and L'estro armonico (issued complete in the earlier set along with the flute concertos) sound absolutely wonderful here, with Standage and the other distinguished soloists in top form. These great concertos don't get the attention they deserve; not only are they on the whole more inventively scored than The Four Seasons, they show off the versatility of the composer in the form that ultimately defined his output.
As for the final discs, they are an appreciable mix of famous works and rarities. It's sobering to think that a composer largely ignored until after the Second World War is now so overplayed that collectors often feel he has little to offer. But that's really not true; Pinnock directs convincingly no matter what the instrumental combination. Among smaller box sets, only Neville Marriner on Decca comes close (Decca 475471-2), with most of the major violin concertos blended with some stylish ones for winds. That box is likely out of print, and will in any event not satisfy those who demand a period approach. In the final analysis, Vivaldi really was a tremendous composer and master craftsman whose best work can be found right here in this package. This could be your last Vivaldi purchase for a while, and that speaks to the quality on display.
Copyright © 2014, Brian Wigman