CD Review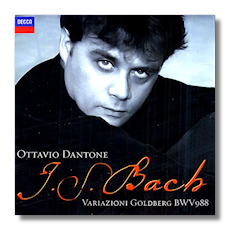 Goldberg Variations, BWV 988 (1741-1742)
Ottavio Dantone, harpsichord
Recorded Salone d'Onore di Casa Romei, Ferrara, 1-3 June 2003
Decca 4763016 79:10

Jill Crossland, piano
Recorded Vestry Hall Studios, Ealing, UK, 24/26 April 1998
Warner Apex 49979 73:11

Ramin Bahrami, piano
Recorded La Chaux-de-Fonds (CH), Salle de Musique, February 2002
Decca 476282 80:33

David Propper, piano
Recorded Saint-Marcel Lutheran Church, Paris, 16-17 March 2004
Skarbo DSK1059 53:40
The subject title simply refers to the locations where I acquired the four recordings. My wife and I spent the month of June on a European trip covering Poland, Budapest, Prague, Salzburg, Venice, Florence and Rome. Although Budapest and Venice were our favorite stops, I found a wonderful record shop in Rome where I bought the Dantone, Crossland and Bahrami Goldbergs; the Propper was waiting on our kitchen counter when we returned home to Albuquerque. I could easily digress into a "lessons learned" from our June trip, but the purpose of this review is to report on the worth of each of the four Goldbergs. Hopefully, I will stay on track.
Ottavio Dantone – I first became familiar with Dantone through his superb recordings of Bach's complete Well-Tempered Clavier on the ARTS label. I subsequently discovered that Dantone was equally outstanding in his Scarlatti keyboard sonatas series on Stradivarius and the Handel Keyboard Suites on ARTS. Most recently, Dantone has partnered with Viktoria Mullova in recording Bach's Sonatas for Violin and Keyboard on the Onyx label. Not one to be restricted to keyboard instruments, Dantone has formed the Academia Bizantina and recorded the orchestral music of Purcell, Handel, Vivaldi and A. Scarlatti. Further, he composed the cadenzas for a Mullova disc of Mozart Violin Concertos. A couple of years ago, Dantone was a rising star of the early music movement; he is now at the top of mountain along with a few other select artists.
Naturally, I had high expectations from Dantone's Goldberg Variations and have not been disappointed. His version is easily one of the best I have heard in recent years, and I consider it among the elite harpsichord recordings of the Goldbergs in the catalogs. His interpretations feature a compelling mix of power/energy, rhythmic lift, sharply etched phrasing, poignant refrains, playful episodes, bleak terrains and totally satisfying conversations from Bach's contrapuntal musical lines. I think it is fair to say that Dantone gives us the full measure of Bach's soundworld in excellent sonics that are crisp as well as well as abundantly rich.
Dantone's opening Aria and first six variations give an excellent picture of his artistry, immersion in Bach's soundworld and a tendency to surprise the listener as he is the opposite of a "one size fits all" keyboardist. A gorgeous nostalgia informs his opening Aria and is followed by the unbridled joy of Variation 1. In Variation 2, Dantone offers a hypnotic rhythmic flow, and Variation 3 finds him thrilling us with his great speed and momentum. He plays Variation 4 in a "plucked" fashion with a wonderful rhythmic bounce; the repeats are beautifully ornamented. Dantone then "throws a curve" at me with his quite slow and comforting rendition of Variation 5; I'm not complaining, because he entirely wins me over with the beauty he elicits from the score. Dantone goes in the opposite direction in Variation 6, giving one of the most powerful and fastest performances I've ever heard. These are illuminating and perfectly executed readings that are a treasure to listen to.
Not wanting to be overly repetitive, here are just a few more highlights of special note:
Variation 13 – One of Bach's greatest bitter-sweet keyboard pieces, Dantone captures its dual nature while doing a masterful job of conveying the music's strong rhetorical elements.
Variation 16 – I love heroic French Overtures with double-dotted rhythmic figures in the first section and exciting fugues in the second. #16 is one of Bach's best and allows Dantone to show off his ceremonial attributes and driving rhythms.
Variation 21 – A perfect example of how Bach conveys great drama and tension without ostentatious displays. Dantone gives the music an aching tenderness that is mesmerizing followed by spiritual enlightenment in the 2nd section.
Variation 28 – "The Variation of Trills" would be a fine nickname for this piece, and Dantone forms them perfectly while managing to give each voice its full measure in the highly interesting conversational flow.
Variation 29 – There is so much going in in this toccata: exciting arpeggios that seem to last forever, jack-hammer beats from the left hand, double-octave leaps from the right hand and sharp streams of tension-filled sounds that wing their way in a myriad of directions. Dantone gives this toccata the wild treatment it deserves, but he is always in control of the proceedings. Actually, I can't think of another version that invigorates me as much as the Dantone.
I hate to put any reservations on Dantone's performances, but there is one I need to relate and it involves the matter of repeats. The Goldberg's Aria and each variation were composed in the typical of-the-time AABB format – play the first section twice and then the second section twice. Bach requires the repeats but is silent as how to approach them. This leaves performers with quite a challenge. The "easy way out" is to skip them altogether, and there is a group of dedicated Bach enthusiasts who prefer the Goldbergs shorn of the repeats. Dantone is not among them, as he plays each one except for the two in the Aria da capo.
The next step is to decide how to differentiate the repeats from their first statements and the extent of differentiation. Common approaches would include changes in tempo, moving to a higher or lower register on the keyboard, the use of hesitations, the staggering of musical lines, deviations in volume, ornamentation/trills, changes along the legato-staccato spectrum and many more. Dantone's preferred method is to employ highly ornamented repeats. From my perspective, he sometimes goes overboard with this additional notes and trills to the degree that they call attention to themselves and disrupt the musical flow. The sole time that he veers from this approach is in Variation 19 where his repeats are much louder than his first statements. I shared my concerns with a few other Bach enthusiasts that I respect highly; each one responded that Dantone's repeats were enjoyable and expressive. So I appear to hold the minority view and can only suggest that interested readers sample the opening Aria and Variation 1. If you enjoy, then you're "set to go". Don't let the fact that I have a little bias against additional ornamentation deter you from acquiring such a compelling version of the Goldbergs.
Jill Crossland – A young adult keyboard artist, Crossland received her training at Chethams and the Royal Northern College of Manchester, England; she also was instructed by Paul Badura-Skoda in Vienna. I first became familiar with her playing through a 2005 Divine Arts disc where she performs Bach, Scarlatti and Handel on the Jirikowsky fortepiano housed at Restoration House in historic Rochester. I found her performances highly enjoyable, although her emphasis on pushing the music forward in a demonstrative fashion did become rather heavy at times on the ears. More recently, I was sent an advance copy of Crossland's recording of Bach's Well-Tempered Clavier Bk. 1 that I currently consider among the best versions I have ever heard; this set should soon enter the market on the Signum label, and I strongly recommend that readers snap it up quickly.
Given the above, I was looking forward greatly to hearing Crossland's 1998 account of the Goldberg Variations. However, I didn't take into consideration one important factor – age and maturity. Put another way, the 2005/06 Crossland is a significantly improved artist over the 1998 version. Don't get me wrong. There is much to enjoy from her Goldbergs. Like Dantone, she is not predictable; actually, one never knows what she will do next. Tempos can be extremely slow or much faster than the norm, her attachment to any particular legato/staccato phrasing is only momentary, and she mixes her usual demonstrative personality with a calming quality quite unlike anything I would have expected from her. So, what we have here are entirely interesting interpretations that tend to fall into the "hit or miss" category.
My disappointment with Crossland covers three considerations. First, the stunning mastery that she now displays concerning color and texture was only in the formative stage back in 1998. Second, there are a few times when Crossland's upper voice gets submerged by the lower voices; this definitely damages voice dialogue. Third, she is occasionally a "note blaster" in that she plays a musical line (usually lower voice) with such exaggerated power and volume that the dialogue is totally destroyed as well as being very jarring to the eardrums. Sonics are on the dry side but perfectly acceptable. Overall, Crossland is a "keeper", but the above reservations do keep it from being a favored version. I'd say the performance is more valuable to the seasoned collector than the novice; you don't want this rather strange Crossland disc as your only recording of the Goldbergs.
Ramin Bahrami – Another young adult, Bahrami was born in Tehran in 1976. A pupil of Alexis Weissenberg, Andras Schiff, Robert Levin and Rosalyn Tureck, Bahrami's concertizing and recordings have concentrated on Bach's keyboard music. Tureck, in particular, has been a major inspiration to Bahrami, and he dedicates his Goldbergs disc to her to the extent that he refers to her as "the voice of Bach".
The above quote is rather surprising in that Bahrami's style is quite distant from Tureck's. She is all about depth of expression and clarity of musical lines, while Bahrami is a role-model of virtuosity. Tureck gives Bach's music the x-ray treatment; Bahrami prefers tremendous streams of sound. He possesses amazing technical skills highlighted by the most flexible and liquid arpeggios and trills I've ever heard in this repertoire. Needless to say, Bahrami turns on the speed burners at every opportunity; he also conveys a fine sense of poignancy in the slower variations. However, it's his virtuosity that most impresses this reviewer. The interpretations themselves are not in the elite category. The soundstage is a little too "wet" for my tastes, but I think the majority of listeners would find the sonics excellent.
David Propper – Yet another relatively unknown young pianist recording on a somewhat obscure record label. However, Propper gives an excellent "no-frills" set of performances that I find the most satisfying of the four being reviewed. It is such a pleasure to listen to an interpretation that at all times conveys the essence of Bach without trying to come up with ways to impress the audience and appear distinctive.
Propper "nails" each piece of the work with fine articulation, inflections, technique, rhythmic patterns, and emotional content. Best of all is the fantastic soundstage that offers great detail in a spacious environment, and Propper uses the wealth of detail to provide a wonderful clarity of diction where each musical line is easily identified and followed. He does skip most of the repeats, but I didn't mind at all.
Don's Conclusions: The Dantone and Propper discs are the pick of the litter and among the best recordings of the Goldbergs on the market. Crossland misses the mark too often to be considered in elite company, but I'll keep her recording for its many illuminating features. Bahrami is great fun to listen to with all his impressive wizardry, but it's more about Bahrami than Bach.
Copyright © 2007, Don Satz