Related Links
Recommended Links

Site News
CD Review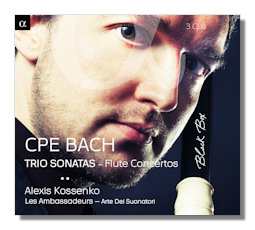 Flute Sonata in E minor, Wq. 124 (H 551) *
Violin Sonata in B Flat Major, Wq 77 (H 513) *
Trio Sonata for Flute, Violin & Continuo in E minor, Wq 144 (H 568) *
Trio Sonata for Flute, Violin & Continuo in A Major, Wq 146 (H 570) *
Trio Sonata for Flute, Violin & Continuo in G Major, Wq 150 (H 574) *
Trio Sonata for Flute, Violin & Continuo in D Major, Wq 151 (H 575) *
Flute Concerto in D Major, Wq. 13 (H 416) **
Flute Concerto in D minor, Wq. 22 (H 425) **
Flute Concerto in A minor, Wq. 166 (H 430) **
Flute Concerto in B Flat Major, Wq. 167 (H 435) **
Flute Concerto in A Major, Wq. 168 (H 438) **
Flute Concerto in G Major, Wq. 169 (H 445) **
Alexis Kossenko, flute
* Les Ambassadeurs
** Arte Dei Suonatori/Alexis Kossenko
Alpha Black Box 821 3CDs 214:39
I really, really like these Alpha Black Box issues. First there was the best ever box of Bach Missa Brevis, then the thought-provoking set of Beethoven concertos, and now this. Carl Philipp Emanuel Bach will always be overshadowed by his father, but his work is astoundingly complex and often quite beautiful. It provides a unique threefold musical personality. It remains respectful of his father's era, while also being rooted in Classicism. The third aspect looks forward to the Romantic period. Since this is one of his "anniversary years", he's getting some legitimate attention.
His father's use of the flute is probably more well-known than the actual works he wrote for it, but Carl Philipp used the instrument far more extensively. These concerto recordings were highly praised when first released, and correctly so. They are simply astounding in terms of virtuosity and style. Flute music is one of those "small doses" types of music, but not here. Alexis Kossenko plays the dual role of conductor and soloist with absolute mastery. These are superbly crafted works, in part because they have sufficient contrast within them to stay interesting. The continuo is reasonably balanced and the strings don't turn ugly even at high speeds. And Kossenko as flautist is a monster; he blasts through the thorniest passages with ease, yet never tires the ear and remains a joy to listen to continuously.
The Trio Sonatas are just as fine. In a chamber music setting, the flute can be even more difficult to endure, but Kossenko plays with such evident joy that you can't help but listen. The string players of Les Ambassadeurs (Zefira Valova, violin; Thomas Pitt, cello; Allan Rasmussen, harpsichord) do take some getting used to, but that's period practice for you. For the most part, the timbre is very beautiful. Slow movements in the Baroque period used to drag, so the period folks clipped them like hedges. Here, everything flows as naturally as you could hope for. As with all these Alpha productions, the packaging is elegant with notes somewhat lacking in detail, but the sound and overall product remain outstanding.
Copyright © 2015, Brian Wigman