Blu-ray Review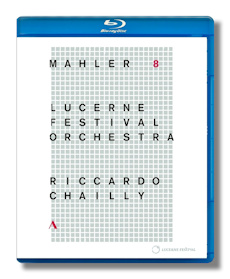 Symphony #8 in E Flat Major "Symphony of a Thousand"
Ricarda Merbeth - Magna peccatrix
Juliane Banse - Una poenitentium
Anna Lucia Richter - Mater gloriosa
Sara Mingardo - Mulier samaritana
Mihoko Fujimura - Maria aegyptiaca
Andreas Schager - Doctor Marianus
Peter Mattei - Pater ecstaticus
Samuel Youn - Pater profundus
Chorus of the Bavarian Radio Symphony
Latvian Radio Choir, Orfeon Donostiarra
Tölzer Knabenchor
Lucerne Festival Orchestra/Riccardo Chailly
Recorded Live – Concert Hall KKL, Lucerne, Switzerland August 12-13, 2016
Accentus Music Blu-ray ACC10390 92:56
Back in 2011 I reviewed a blu-ray disc of Riccardo Chailly's Gewandhaus Mahler Eighth here at Classical Net (Accentus Blu-ray ACC10222), finding it quite excellent all around. It too was on the Accentus Music label and was part of his then ongoing Mahler symphony cycle. Here, from the 2016 Lucerne Festival, is another performance of the work led by Chailly, this one cut from much the same interpretive cloth. It was done as a tribute to the late Claudio Abbado, who was the conductor of the Lucerne Festival Orchestra from 2003 through 2013. Abbado was nearing completion of his own video Mahler symphony cycle with the orchestra when he died. Only the Eighth remained to complete the project. Thus, Riccardo Chailly, who succeeded him as conductor of this summertime ad hoc ensemble (which some have suggested is the finest orchestra in the world), took on the task of completing the series. Strangely, the Abbado/Lucerne Festival Mahler cycle was being issued on Euroarts, not Accentus Music. So it's a little odd that the latter label finished the project.
At any rate, this performance is, as suggested above, quite similar to the Gewandhaus effort – similar but falling a tad short of reaching the same high level of success. There was a little more electricity in the air throughout the Gewandhaus Eighth, even though it is now a little hard to put your finger on all its somewhat stronger assets. The singers are all fine in the Lucerne account, though I prefer Erika Sunnegårdh in the earlier recording to Ricarda Merbeth, good though she is throughout this performance. Anna Lucia Richter, who also sang Mater Gloriosa for Paavo Järvi's recording, covered here by me in 2015 (Unitel Classica/C Major Blu-ray 729604), is again quite convincing. That said, I think she sings at a little too much of a distance here, and while she's supposed to have separation from the other soloists, I think she could have been miked a bit more closely. The Lucerne Festival Orchestra plays well as usual and the sound reproduction, picture clarity and camera work are all splendid. Thus one must almost nitpick to find significant flaws in the performance, but I would say there is a sort of nebulous factor at work here: put simply, there is just a bit more spirit in Chailly's 2011 account.
Indeed, and let me elaborate further. I read a review of the Lucerne recording in which the critic claimed the choral and orchestral forces are a bit smaller compared with those used for Chailly's Gewandhaus account. Well, I didn't count heads but I noticed little or no difference at all between the two in numbers. Moreover, if there is a marginal one, the Lucerne forces are still perfectly adequate for Mahler's vast score. That said, the Gewandhaus performance does sound a bit bigger and slightly more imposing. Ultimately, it exhibits a greater epic sense, more color and more impact. It's not that the Lucerne effort pales alongside it or is several rungs below, because it has its strengths too, not the least of which are the orchestra's excellent playing and the consistency of the soloists and choruses. And we can't forget Chailly's imaginative and solidly wrought vision of the score. Both recordings are in the major leagues then and in the end, you can say this is a case where the sum of the various parts of the one effort add up to a slightly greater whole than those of the other.
I earlier mentioned the Järvi recording of this symphony which is also very good in almost every respect. Its one drawback is its inferior Blu-ray picture quality – it's more like DVD (and maybe not great DVD at that). In the end then, this new effort by Chailly is very good, though not the last word in the video realm. For what it's worth – and this isn't a big issue to me – the album booklet is printed on heavy-weight printer paper and features very small print. The pictures of the concert contained within would look so much better on paper with a coated matte finish. Okay, I nitpick, but there you have it.
Copyright © 2018, Robert Cummings