CD Review
Victor Hugo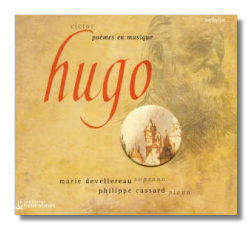 Poèmes en musique
Le Papillon Et La Fleur
L'absent
Reynaldo Hahn:
Quand La Nuit N'est Pas Étoilée
Si Mes Vers Avaient Des Ailes
Dieu Qui Sourit
Guitare
Pulsqu'ici Bas Toute Ame
Adieux De L'hotesse Arabe
La Coccinelle
La Chanson Du Fou
César Franck: Roses Et Papillons
Si Vous N'avez Rien a Me Dire
Soirée En Mer
Gaetano Donizetti: L'aube Nait (Ou Crepuscule)
Richard Wagner: L'attente
S'i Est Un Charmant Gazon
Comment, Disaient-Ils
Enfant, Si J'etais Roi
Oh! Quand Je Dors
Enfance
Nuits De Juin
Marie Devellereau, soprano
Philippe Cassard, piano
Ambroisie AMB9921 Total timing: 60:52 Recorded March, 2002
This is an interesting release by an enterprising small company. Although Victor Hugo forbade musical settings of his lines, there are some two hundred songs to his poems. He did not go to concerts and his preferred musical instrument was the barrel organ! Sound structure was important in his poetry, which served the composers well.
There had been no CD devoted to Hugo since Felicity Lott's for Harmonia Mundi (HMA1901138) and these two French artists found many gems trawling this treasure trove for Hugo's bicentenary, from Donizetti to Wagner and some impressive examples by the 15 yr old Benjamin Britten, which bring to my mind the Ravel of Histoires Naturelles. Of French composers, there are interesting examples by Franck, Bizet & Faure.
The singing is not quite charismatic, but Marie Devellereau's voice is pure and sparing of vibrato (Emma Kirkby might have done better to have tackled some of this repertoire instead of Emma Beach!) and the performances are well prepared and accompanied by Philippe Cassard, who also provided the notes.
But I have a particular reason for choosing this release for review. I have long campaigned for texts and translations to become axiomatic in CD booklets (and I am an unrepentant enthusiast for surtitles in the opera house). Does it matter to most purchasers that the words are given in French only? Possibly not – at song recitals one often observes listeners who rarely look at their programmes and certainly do not follow the texts intently. For CDs, there is a cost factor, which some record companies are beginning to get round by putting texts onto their websites. In this case there is another solution, which may be news to some Classical Net visitors?
Emily Ezust has compiled a remarkable website resource, The Lied & Song Text Page, which contains texts and translations of thousands of songs. By searching her Archive under Poets you can find there thousands of translations to English, French and other languages, including English translations of those Victor Hugo poems used for about two thirds of the 21 tracks. They can, of course, also be printed out easily for study. I found it pleasurable to play this CD through with the French and English words on my computer screen, pausing as necessary between songs. Do so with Bizet's Coccinelle, Wagner's L'attente and Britten's Enfance and you will be in no doubt how much you would otherwise have lost.
Copyright © 2002, Peter Grahame Woolf