Introduction
Saxophone music has run through my compositional output like a red thread ever since I first heard Sigurd Raschèr in 1960. His flawless technique and magnificent musicianship opened my mind to the possibilities of the instrument. Besides that, he had a charming way of persuading every composer he met to write music for him. Over the years, with his constant coaxing and support, I produced an even dozen works for saxophone ranging from a small suite for unaccompanied alto to a full-blown symphony for large saxophone ensemble and percussion. These pieces are representative of the music I was writing at every period of my life, and the compositions on this CD are a fair sampling of my chamber music in general.
Well-defined material and logical, linear development are the building blocks of all my work, with harmony serving both for emotional effect and as a structural tool. The saxophone is the lyrical instrument par excellence and is perfectly suited to my kind of music. I strive to create natural-sounding melodies that will stick in people's minds and hearts, though this is a risky endeavor in a cynical age numbed by broken promises. I mean these tunes as an honest gift – something for audiences to take home with them and remember after the concert.
The SONATA for soprano and piano first appeared in 1961 as a modest sonatina written for Carina Raschèr. Twenty-five years passed before I heard it performed, and by then it was obvious to me that the material had potential which I had not fully realized. Major revisions took place in the late 80's; the first and last movements were expanded, and the slow movement was replaced with a new and more developed composition. Gradually, through the patient encouragement of Paul Cohen, the sonatina matured into a new, full-grown sonata retaining little more than the basic thematic material from the earlier version. I believe that the original light-hearted mood still prevails, however, and the sassy final pages remain unchanged.
FABLES (1997) for alto and piano is a sonata-sized work though the outer movements are both freely adapted rondo forms. The first movement begins with a plaintive, barely accompanied melody for saxophone. This tune is one that I had once set to a medieval German love poem. The impudent rondo that follows is a brisk and humorous antidote to such tender sentiments. A short recitative leads directly into the slow movement which is based on another romantic melody that once fitted another old German text. Here the love song is allowed to develop without rude interruption until it finally dies away in a gentle mood of nostalgia. I think of the last movement as a dialogue between serious and happy-go-lucky characters, and the soloist is challenged to play both roles alternately. The conversation finally reaches a noisy climax which spins off into a virtuoso cadenza. In spite of the shameless bravado, the last word is serious, and the piece ends on a note of quiet acceptance.
FOLLIES for baritone and piano (1994) is a three movement sonatina constructed along classical lines. It also had an early beginning. In 1964 Mr. Raschèr asked me to make an easy piece for baritone and piano for a series he was doing with Belwin. I sent him sketches for three pieces. He chose one of them which later was published as Romp. Time passed; I lost track of this music, and the manuscripts disappeared. Thirty years later Linda Bangs, a former Raschèr student, sent me copies of the two unfinished sketches, and I used the material as the basis for the outer movements of Follies; the slow movement was completely new. Although this composition far outgrew its early intention as music for students, the bumptious air of youth still clings to it in spite of the sophisticated piano part.
AFFIRMATIONS (1993) is a full-scale quartet for soprano, alto, tenor, and baritone saxophones, the last of the works I wrote especially for Sigurd Raschèr. The first movement is a classical sonata allegro with the usual themes and development, but the slow introductory parts have more than a tinge of yearning and bittersweet nostalgia. The second movement is essentially a light and easy song without words; the cantabile sections are innocent and romantic with nothing to get in the way of the melody. The last movement is a straight forward rondo with an over-all carnival atmosphere. There are several places, for example, where a merry-go-round waltz fragment intrudes into the main themes, giving the feeling that one is hearing two pieces at once - like on the midway. Toward the end of the movement I sink into lush D-flat major and indulge in one last love song before plunging on to the coda where I let the music whirl away in a burst of good humor.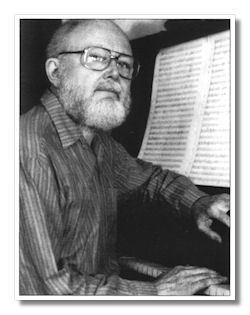 Notes by J.D. Lamb
JOHN DAVID LAMB – Born Portland, Oregon, 1935. Raised in Yakima, Washington. Public school education. Married 1954, two daughters. B.A. San Francisco State 1956; M.A. University of Washington 1958, major in composition and conducting. Composition study with Latvian nationalist composer, Volfgangs Dārziņš, Seattle, 1956-1960. Washington teaching certificate, U. of W. 1959. Teacher in Seattle Public Schools 1960-1996. Received composer-in-residence fellowship from Ford Foundation/MENC 1965-66. Studied Swedish folk music in Stockholm 1977-78 and again during the summer of 1981. Attended intensive course in ethnic music at Malungs Folkhögskola in Sweden during sabbatical year 1984-85. Compositions include orchestral, choral, dramatic, chamber, and pedagogic works as well as some 150 fiddle tunes.
Performers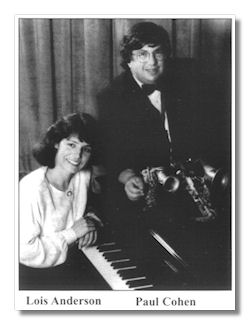 PAUL COHEN is active as a performer, teacher, musicologist, and author in all areas related to the saxophone. He received a BM degree from Baldwin-Wallace Conservatory and MM and DMA degrees from the Manhattan School of Music. Dr. Cohen is currently on the faculties of the Manhattan School of Music, Oberlin Conservatory, and NYU. He has appeared as soloist with major symphony orchestras and made numerous recordings including three albums with the Cleveland Symphonic Winds under the direction of Frederick Fennell. Dr. Cohen is a well known authority on the history of the saxophone, and his column "Vintage Saxophones Revisited" is a regular feature of the Saxophone Journal. As a musicologist, he has enriched the literature by discovering and performing a number of forgotten classical saxophone works such as the concerto by 19th century American Caryl Florio and compositions of Percy Grainger.
LOIS ANDERSON is active as a pianist, composer, and improviser. She has performed with the New Jersey Symphony and Chamber Music Society, the National Chorale, at Lincoln Center, Carnegie Hall, and on WQXR and NPR. Her musical scores have been heard on ABC-TV and PBS. She received her Bachelor and Master of Music degrees from the Manhattan School of Music and is currently on the faculty of New Jersey City University.
LEO SAGUIGUIT has appeared in numerous solo and chamber music performances at universities and festivals throughout the country. He served as saxophonist with the Atlanta Symphony, Milwaukee Symphony, and taught on the faculty of Emory University for several years. He is currently completing his doctoral studies under Frederick Hemke at Northwestern University.
YOKO YAMADA-SELVAGGIO was born in Japan and began her piano career at the Toho High School of Music. She received a Bachelor of Music degree from the Toho Gakuen School of Music and a Master of Music degree in piano performance from the New England Conservatory. Currently Mrs. Yakada-Selfaggio performs as an accompanist in the Chicago area.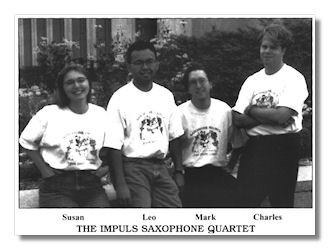 THE IMPULS SAXOPHONE QUARTET consists of Susan Fancher, Leo Saguiguit, Charles Stolte, and Mark Engebretson. All the members are doctoral candidates at Northwestern University.
Credits
This recording is dedicated to the memory of my father,
Clark Lamb (1912 – 1998)
Art – Sydney Stibbard
Recording, editing and mastering – Al Swanson
Photos – Mary Lamb, Robin Brown, Jeffrey Langford
Special thanks to Paul Cohen and Lois Anderson who graciously donated their time and artistry to this project.
Thanks also to Sigurd Raschèr whose constant encouragement was the chief inspiration for all of this work.
Production – J.D. Lamb
All selections licensed by ASCAP
Published by

NÄCKENS VÄNNER
1907 East Blaine
Seattle, WA 98112
©® 1998 by John David Lamb