Last Updated by David Charlton on Saturday, 6 February, 1999
It certainly continues to be an extremely exciting time for Torke's music! In future this page will accommodate all the latest news, simply because there is so much. In other words a good page to make a favourite for future reference!
Hot off the Press will include details of any new commissions, reviews or recordings. If anyone has any views, news regarding performances, seen a review etc I would be delighted to include them!
HEADLINES !
"Brick Symphony"
Michael Torke completed his first symphony entitled simply 'Brick Symphony' in February 97. This San Francisco Symphony Orchestra commission is in four movements and is approximately forty minutes in duration and must therefore be regarded as a major addition to Torke's work.
Why the title Brick Symphony?
"To me, I compose with small bits of material, in this case special voicings of triads built with five voices, and no chordal melodic material which resolves in peculiar ways. The entire piece uses these 'fundamentals', they are like building blocks, or bricks. I also like the everyday non-pretentious association we have with bricks - it's something that's all part of our lives - it's kind of democratic. I wanted to get away from the "self cherishing" mode that composers find themselves as they title their pieces "symphonies" and carry with them such unreasonable expectations."
The World Premiere took place in San Francisco on 14th January 1998 with Alasdair Neale conducting the San Francisco Symphony Orchestra.The following is Mark Swed's Review which appeared in the LA Times
'Brick' a Solid Building Block for Torke
"San Francisco – The urge to write symphonies runs strong and deep in American music. Not very imaginative 20th century Americans did it in imitation of the Europeans. But throughout the 20th century, beginning with Ives and right up to Philip Glass, our composers have turned the symphony into as authentic an American art form as our novelists have the novel."
"But that makes the genre no less daunting. Michael Torke whose "Brick Symphony" was given its premiere Wednesday night by the San Francisco Symphony, told the audience in Davies Symphony Hall that when composers are commissioned to write for an orchestra, they are usually asked to produce something brief to preface the main works of a concert. Not this time: San Francisco said he could write anything he wanted."
"Torke is a composer who burst upon the scene in the early 80's, while still a composition student at Yale, literally waving his colors. With short orchestral pieces like "Ecstatic Orange," Torke created a new music that found its exuberant energy in hints of rock (a pop tune bass line might generate a piece), took inspiration from the repetitions of minimalism and was built with the rhythmic rigors of Stravinsky."
"The music was bright, bold, original and full of optimism. Dance companies loved it; and Torke had a close association with New York City Ballet for a while. Most audiences loved it, and some critics, this one included, found Torke a genuine breath of fresh air. Others, however, were just as passionate in their dislike of the unending bouncing-ball syncopations, the in-your-face attitude of pop music and the obsession with tonalities that didn't modulate much."
"But there was always another, much more classical, side to Torke that almost no one liked. In works like a piano concerto and a mass, Torke threw off his pop and post-minimalist feistiness and returned anachronistically to the late 18th and early 20thcenturies. But those works seen as false steps, and Torke quickly returned to his earlier style."
"With "Brick Symphony," which is in the traditional four movements and last nearly 40 minutes, Torke, who is now 36, has made a fascinating, if still tentative, attempt to reconcile these two sides of his music. The highly engaging bouncy figures are still around, and so is the bright sound. That Torkean sensation of boundless energy happily remains and climaxes continue to ring with joy."
"But everything is controlled in a Classical period manner. Themes develop and sequence, they modulate, and even when they pretend to go on and on happily, they are, in fact tightly structured in a symphony built, Torke suggests by his title, like a building – brick by brick. Hints of pop have all but vanished; hints of Beethoven are much stronger. Indeed, there are startling surreal moments in these four movements, when it sounds as though a young Beethoven somehow found himself in the wrong century and was trying to write his music with modern techniques."
"This is a first symphony and, I sense, just the start of a much grander synthesis of Torke's earlier post-minimalism and his classical sides. But there is much to enjoy in it. The slow movement is asked to be played with melancholy; its orchestration is clear and luminous and the long, sinuous solos for the bass clarinet are beautiful."
"The symphony ends wonderfully in a great tune and a great peroration that is grand and Beethovenian but with just enough quirky modern touches to make it exciting. It is also just the kind of gesture that audiences love, and this audience greeted the symphony with great enthusiasm."
"Michael Tilson Thomas is busy bringing the Bay Area to Miami this week, conducting a special John Adams program with the New World Symphony there. So the performance was conducted by Alasdair Neale, the orchestra's associate conductor, and it was in good hands. The performance sounded careful and affectionate."
"But the symphony will delight even more, I suspect, when it is a little less new and the orchestra can open up a little more, as it did after intermission in a rousing performance of Orff's Carmina Burana, another brash example of a 20th century music rethinking the past for the present. A glossy Sumi Jo, Stanford Olsen and Christopheren Nomura were the soloists."
"Bill Everett's American Music Review"
Bill Everett from the University of Missouri-Kansas City had the following reviews for the Music on the Floor and Javelin CD's published in American Music in Summer 98.
Michael Torke (b. 1961) is rapidly emerging as one of the predominant voices of his generation. His ability to synthesize the various musical influences of the twentieth century from Stravinsky to minimalism and rock has drawn praise from audiences and critics alike.
Torke, a native of Milwaukee, Wisconsin, studied with Christopher Rouse and Joseph Schwantner at the Eastman School of Music, and with Jacob Druckman and Martin Bresnick at the Yale School of Music. He was the winner of numerous young composer awards, including two fellowships to the Tanglewood Music Center, where Gunther Schuller led the premiere of his Ceremony of Innocence 1983). His music is appearing with ever-growing frequency in both the United States and Europe.
Significant influences on Torke include Stravinsky (harmonic language and neoclassic elements), the minimalist school (general style), and popular music (directness of expression). These influences manifest themselves in several aspects of Torke's compositional style: ~) color, 2) dance, 3) rhythmic drive, 4) motivic development and transformation, and 5) melody. The first of these features, color, is evident in the title of an earlier all-Torke disc, Color Music (Argo 433 071), which contains works with titles such as Ecstatic Orange, Green, and Bright Blue Music (the latter two of which appear on the second of the discs under current review). It is not only color as an inspiration for titles which is evident in Torke's work, but also his use of orchestral color and timbre. Dance also figures prominently in Torke's output: he began an important collaboration with Peter Martins and the New York City Ballet in 1987 with a choreographed version of Ecstatic Orange. Torke has also worked with the San Francisco Ballet, the Alvin Ailey Company, the Netherlands Dance Theatre, and the National Ballet of Canada. Relentless repeated rhythms, the result of the influence of minimalism and rock, pervade much of Torke's music, and infuse it with its characteristic high energy and vigor. Somewhat surprisingly, Torke did not begin listening to rock music until he was a student at Eastman. Minimalism is apparent in Torke's organic use of motivic development and transformation: his motives do not merely exist, but are in a constant state of flux. Finally, melody is emerging as a significant factor in Torke's latest music, namely the slow movements of the Saxophone Concerto(1993) and Music on the Floor 1991). Javelin 1994), the title track of the second album under review, contains a sweeping lyrical melody as its principal theme. Torke's synthesis of elements from American popular and European art traditions does not sound contrived, but emerges as a natural blending of two complementary approaches to musical creativity.
The first disc to be discussed, Music on the Floor, features music for small ensembles: Four Proverbs, Monday, Music on the Floor, and Tuesday. Four Proverbs, performed by Catherine Bolt and the Argo Band under the direction of the composer, is based upon texts from the Book of Proverbs. Torke's initial idea for the set was to create rock-and-roll songs; in the final result, he chose to maintain the presentational style of popular music, but went a step further. For each proverb, Torke set the text directly in a simple binary form and then proceeded to deconstruct each musical phrase, rearranging the motivic-based material before reassembling it at the end. The text is enhanced through this treatment, as each word or phrase is altered simultaneously with its musical setting.
Music on the Floor, like Four Proverbs, takes as its basis the transformation and manipulation of motivic ideas. Scored for two vibraphones, piano, string quartet, and two woodwinds, the three movements of Music on the Floor are based upon a sequence of six pitches and an attractive syncopated rhythm. These elements are maneuvered, expanded, and repeated as new thematic material emerges from them.
The two works that encircle Music on the Floor on the disc, Monday and Tuesday (both from 1992), share many common elements. Torke, in the liner notes, describes his compositional procedure for both pieces as a "musical function machine. You enter an input, and, according to the function, a predicted output emerges." What Torke did was to create a "program" and then enter different "data" into his program. The result was these two pieces which, while being very similar and containing closely related musical features, are clearly distinguishable works. Torke akin this relationship to that of life -repetition and constancy can be good things, but sameness often leads to boredom; likewise, these works display two manifestations of the same musical process. Their placement on the disc, separated by Music on the Floor, accentuates their connection through the contrast, both in timbre and in concept, of the intervening work. Lothar Zagrosek and the London Sinfonietta give convincing performances of Monday, Music on the Floor, and Tuesday.
The second disc, Javelin, the Music of Michael Torke, takes as its title the first piece on the album, a joint commission by the Atlanta Symphony Orchestra and the Atlanta Committee for the Olympic Games Cultural Olympiad. Also included on the collection are December (1995), a commission from the Des Moines Symphony Orchestra, and Run (1992), a commission from the New York Philharmonic Orchestra. The remaining four works on the disc, Adjustable Wrench (1987), Green (1986), Music on the Floor (1991), and Bright Blue Music (1985) are rereleases from earlier Torke discs. While the inclusion of reissues is disappointing, as there are still many fine pieces by Torke to be recorded, the disc functions admirably as a sampler of Torke's music.
Javelin is an energetic overture that captures the excitement and rhythmic intensity associated with Torke's music and combines it with a soaring lyricism. The principal theme is one of heroic proportions, appropriate for a piece commissioned for the Atlanta Olympics. Yoel Levi and the Atlanta Symphony give a spirited reading of the score. (Javelin also appears on the recently released Summon the Heroes [Sony 5K 62592], a collection of Olympic-inspired music with John Williams and the Boston Pops.) The extroverted spirit of Javelin is maintained in the next work on the disc, December. Michael Torke leads the strings of the Philharmonia Orchestra in a lively performance of the work. Strong rhythmic motives drive the piece forward over a groundwork of sustained chords. The high energy continues in Run (1992), written at the same time as Music on the Floor, Monday, and Tuesday. Like Monday and Tuesday, this is "process-oriented" music. The effect is not one of contrived control, but rather of organic motivic permutation. Yoel Levi and the Atlanta Symphony's performance maintains momentum and the finer aspects of the orchestration are clearly evident in the performance.
Adjustable Wrench (1987), performed by the London Sinfonietta under Kent Nagano and first released in 1990 on Michael Torke, Chamber Works (Argo 430 246 209-2; the first all-Torke disc), is a motivically driven piece. Its opening syncopated vamp has been compared to Van Halen's "Jump" (1984), though Torke claims the inspiration for the work as an obscure song by Jellybean, Madonna's one-time producer. Groups of instruments "wrench" the musical material through unexpected twists and turns, with a synthesizer adding a funky chromatic bass line at one point.
Green (1986) and Bright Blue Music (1985) are the opening and closing tracks on Color Music (Argo 433 071-2), the second all-Torke disc released by Argo. Both selections (and the entire Color Music album) are played by the Baltimore Symphony Orchestra under David Zinman. Both works are based upon motivic development and transformation. The orchestration for both pieces is particularly effective. Torke utilizes the full orchestral palate in a seemingly infinite variety of combinations to create a fascinating array of timbral color. Both Green and Bright Blue Music are overtly exuberant in character, and both possess the intense energy now associated with Torke's music. Bright Blue Music is one of Torke's pieces which is strongly associated with dance: it ends James Kudelka's ballet Terra Firma (for the San Francisco Ballet) and is the basis for Mark Godden's Bright Blue Music (for Grands Ballet Canadiens). The work is a fitting final work on both the earlier Color Music and the more recent Javelin albums. Also featured on the Javelin album is the second movement of Music on the Floor, discussed above.
The quality of sound on both discs is excellent. Torke's intricate rhythmic counterpoint is clearly evident as is his fine use of timbre for both small and large ensembles. Both discs contain valuable liner notes. The notes for Music on the Floor are by Torke himself, and Javelin contains an insightful interview with Tone by Michelle Ryang.
Both discs are welcome additions to the recorded repertory of American music. Javelin, the sampler album, provides a solid introduction to Torke's music, and hopefully will entice its listeners to purchase the earlier recordings of Torke's music, including Music on the Floor. The popularity of Javelin (both the album and the piece) will certainly enhance the reputation and name recognition of one of the most exciting young composers in America today.
"Copyright 1998 by the Board of Trustees of the University of Illinois. Used with the permission of the University of Illinois Press."
"Huddersfield Contemporary Music Festival"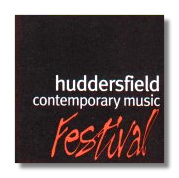 Michael Torke's music from his most recent recording Overnight Mail was featured at the 21st Huddersfield Contemporary Music Festival in November 1998 which had a decidedly American slant also featuring works by Riley, Crumb, the octagenarian Carter and Reich.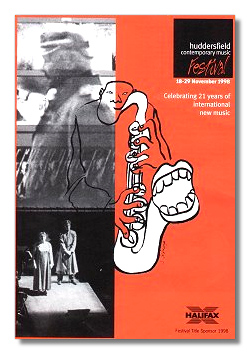 This festival has across two decades mounted over 180 world premieres, more than 500 UK premieres, presented multi-media extravaganzas, trapeze artists swinging from the Town Hall ceiling, beamed pulsar signals live from outer space,created some stunning out-of-door events, staged opera, dance, sonic installations, not to mention a vast array of unforgettable concerts performed by the finest ensembles and soloists from all over the world!
True to their founding tenent of taking music to the people the Orkest de Volharding's first concert took place in the Market Piazza and featured the first part of Overnight Mail. Their second concert, a late night starter at the Lawrence Batley theatre which I attended, started with a brilliant UK premiere performance of Overnight Mail. A performance with real panache! The second movement with it's brass band imagery sounded particularly apt in Yorkshire.
The third concert featuring Torke's music took place at 11am the following morning and featured the ' irrepressible ' Apollo Saxophone Quartet performing July and the UK premiere of Flint. (Augmented by members of Manchester's new music ensemble Psappha and Michael Torke himself.)
"RSNO to perform UK Premiere of Book of Proverbs"
February 18th 1999 will see the UK premiere of Book of Proverbs at the Glasgow Royal Concert Hall. Marin Alsop, a great champion of American music and pupil of Leonard Bernstein will conduct the Royal Scottish National Orchestra, RSNO Chorus and soloists Karina Gauvin, soprano and Christopher Maltman, baritone.
"Jasper, Lucent Variations, and Pentecost"
An article by Steven Swartz
When performers (and audiences) are clamoring for your music, it helps to be productive. Such is the case with Michael Torke, who has had three premieres in a four-week period this fall. On September 18, Hugh Wolff conducted the Saint Paul Chamber Orchestra in the premiere of Lucent Variations, followed by a nationwide tour in November. September 19 brings the debut of a new orchestral piece, Jasper, while October 18 marks the premiere of Pentecost for soprano, organ, and strings. Together the three works, each distinct in character, offer a good overview of Torke's current compositional world.
Jasper finds Torke in the "colorful, free and dramatic" mode of his exceptionally popular concert-opener Javelin. The title, denoting both a shade of green and a semi-precious gem, grew out of the verdant setting in which he composed the piece. Torke, a Milwaukee native now living in New York City, traveled to the rural town of Bayfield, Wisconsin to work on Jasper, and was struck by the beauty and grandeur of the trees there, "the canopy of boughs and leaves like the dome of a cathedral." The tribute is particularly apt, since Jasper was commissioned by a pair of Wisconsin orchestras in celebration of the state's sesquicentennial. Jasper is driven by an appealing melody that uses each note of the major scale only once – a serialist notion tucked into a very tonal piece. John DeMain conducts the Madison Symphony Orchestra in the premiere, followed by Andreas Delfs leading the Milwaukee Symphony Orchestra in October.
In contrast, Lucent Variations is a set of continuous variations on a never-stated theme. This chamber orchestra piece exemplifies the more conceptual side of Torke's music, a world explored previously in minimalistic ensemble works such as Adjustable Wrench (1987) and Monday and Tuesday (1992). Yet Lucent Variations is also linked in the composer's mind with an arresting visual image, one that combines motion and stasis: the recollection of "small children at a theme park watching an electrical parade at night, looking on with a sense of wonderment as the lighted floats go by." The premiere at St. Paul's Ordway Theater will be followed by tour performances in Nashville and Germantown (Tennessee), Birmingham, Fairfax (Virginia), Princeton, and New Bedford (Massachusetts).
Pentecost, for soprano, organ, and strings, extends a series of Biblical settings that began with Four Proverbs (1993) and continued with Book of Proverbs, his acclaimed 1996 score for soprano and baritone soloists, chorus, and orchestra. In each work the composer has selected terse yet vivid texts, setting them in an idiosyncratic way: each syllable of the text is "locked" to a specific note of the melody. As the melody is put through various permutations, fragments of the text are rearranged as well. Pentecost sets portions of the second chapter of Acts of the Apostles (Acts2: 17, 19-21 King James Version),including the stirring verse, "The young men will see visions and the old men will dream dreams." Remarks Torke, "I see the breaking up of the syntax in these pieces as a serious, almost devotional thing – in the Catholic tradition of the Rosary, where you say things over and over…except here, it's treated in an almost cubistic way."
Pentecost was commissioned by St.Mary's Parish in Elm Grove, Wisconsin, a suburb of Milwaukee to celebrate their 150th anniversary as well as to celebrate the building and installation of their new organ. The piece is in three movements and is 23 minutes long. Torke conducted the premiere, featuring soprano Margaret Lloyd.
"Future Projects"
Future commissions include a Flute Concerto for Carol Wincenc and a further collaboration with choreographer James Kudelka for the National Ballet of Canada based upon a twisted modern day version of the Pied Piper story? Torke has commenced work on the Millennium commission for the Walt Disney Company! This major piece will be for chorus, soloists and orchestra, last 60 – 70 minutes and will probably be premiered in September 1999 at Lincoln Center with the New York Philharmonic. Torke has chosen the American playwright A.R. Gurney for his contribution to a New York City Opera project involving a triple bill of one acts each written by an American playwright. All three stories taking place in Central Park and the one-act opera – provisionally titled Strawberry Fields will open at Glimmerglass in July.
If you have any comments, additions or questions I would be really pleased to hear from you!
Copyright © David Charlton, 1995-2000.
This is the 'Unofficial' Web Page for Michael Torke
The music of Michael Torke is published by Boosey and Hawkes
Source attribution: Boosey & Hawkes, Michael Torke