I have included this feature on this remarkable performer following an email I received from him concerning the Michael Torke Web page. I found him to be friendly, helpful and really enthusiastic about music and new music in particular. McChrystal the performer, is a great champion for "new music" and last year saw the release of his fine recording of Michael Torke's Saxophone Concerto.
Gerard McChrystal comes from Derry, Northern Ireland. He took up the saxophone in 1982 and within seven years had made his concerto debut with the Philharmonia in London. He studied in Manchester, London and Chicago.
His new album "Meeting Point" featuring concertos by Michael Nyman, Michael Torke and Dave Heath with London Musici/Mark Stephenson was released in March 1996 by Silva Classics and has already been featured in "Q" magazine, Classic FM, Radio 3 and The Irish Times.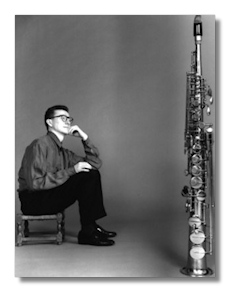 Gerard McChrystal made his U.S. debut in May 1995 giving two sell-out performances in the Memorial Opera House, San Francisco with the Orchestra of San Francisco Ballet. In the last 5 years he has premiered over 15 concertos and chamber works by composers including Sir Malcolm Arnold, John Taverner, James McMillan, Graham Fitkin, Dave Heath and Michael Kamen. He began a 30 date tour in June 1995 with Rambert Dance Company/London Musici playing Michael Nyman's saxophone concerto with choreography by Christopher Bruce. Other concerts included performances and broadcasts with the BBC Scottish Symphony and Ulster Orchestras. In 1993 Gerard's recording of Claude Debussy's Saxophone Rhapsody with Yan Pascal Tortelier and the Ulster Orchestra was released by Chandos Records. Later that year he performed with The National Orchestra of Wales in a programme for S4C Television.
He has appeared in the Purcell Room, Wigmore Hall, BBC Concert Hall, Royal Albert Hall, London, St. David's Hall, Cardiff, Festival Theatre, Edinburgh, National Concert Hall, Dublin, Rossini Theatre, Italy and The Royal Exchange Theatre, Manchester. He also has worked with The BBC Philharmonic, The Royal Ballet Sinfonia and the vocal group, Anuna.
Concerts last season included concertos with the BBC Concert Orchestra in the QEH for Radio 2 and a Prom with The City of London Sinfonia (Taverner's "Apocalypse") with whom he performed in Athens last year. In June he was featured every day for a week by BBC Radio 3 including a "Live" Wigmore Hall recital.
His innovative new saxophone series was released by Camden Music in 1996 including works by Dave Heath, Tommy Smith, Gary Carpenter, Ian Wilson, Michael McGlynn and Eric Sweeney. The series was launched at the Wigmore Hall in a recital with saxophonist Tommy Smith on May 31st 1996. Gerard recently gave three performances of Michael Nyman's concerto, "Where the Bee Dances" in the London Coliseum.
He premiered Dave Heath's new saxophone concerto "The Celtic" with The RTE Concert Orchestra in The National Concert Hall, Dublin in October and has further performances with The BBC Concert Orchestra and the SNO in the 1997/98 season.
He recently performed to over 20,000 people in Korea as well as to a television audience of over 20 million on television and went on to tour Indonesia for the British Council. In 1997 Gerard will appear on the new album, "L'Imaginaire Irlandais - Suite" along with Sinead O'Connor, Christy Moore, Anuna, Donal Lunny, Aslan and Stockton's Wing.
If you have any comments, additions or questions I would be really pleased to hear from you!
Copyright © David Charlton, 1998.
Last Updated by David Charlton on Monday, 26 January, 1998.
This is the 'Unofficial' Web Page for Michael Torke
The music of Michael Torke is published by Boosey and Hawkes
Source attribution: Gerard McChrystal