Macbeth, Op. 23
Wergo WER6402-2
Hans Rosbaud/Symphony Orchestra of the Southwest German Radio, Baden-Baden (1959)
Pithier than Aus Italien, Macbeth represents Strauss near to becoming the composer we know. Curiously old-fashioned, it reminds you more of Liszt's tone poems, or even Balakirev's King Lear, than of Don Juan (the opus numbers are misleading; Strauss wrote Macbeth first). It presents a sure sense of direction and original planning missing from Strauss' earlier work. It lacks only an astonishing, memorable theme, like the Don Juan horn call or the music to the second love episode in that work.
Rosbaud, known for his interpretations of Mozart and of modern music, turns in a taut, rhythmically crisp performance. In the opening, he stresses the Scottish connection by emphasizing the drones. The development, which depicts Duncan's murder, impresses the most. The percussive repeated chords in this music, reminding you of "the knocking at the gate," call up the oppressive violence of the play. Under Rosbaud, you feel like the legions of hell have broken loose. However, the monaural sound seems to come from a radio air check and does little to champion this work.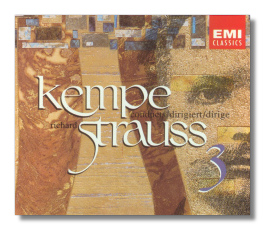 EMI CMS764350-2
Rudolf Kempe/Staatskapelle Dresden (1973)
Kempe and the Dresdeners give the piece an on-again, off-again advocacy. Kempe concentrates on sumptuous sound and has a sure grasp of the form, much firmer than Rosbaud's, who after the murder music loses focus and trails off. Kempe's is an altogether suaver reading, although it lacks Rosbaud's imaginative touches. The murder, for example, misses a lot of Rosbaud's bite, especially at the "knocking" chords, to me the most audacious moment in the score. On the other hand, the EMI sound engineers create a bright, ringing support for the Dresdeners, and, of course, stereo helps. Neither the Rosbaud nor the Kempe can be called definitive, and both have their points. We may have to wait for Herbert Blomstedt.
Copyright © 1994-2008 by Steve Schwartz & Classical Net. All Rights Reserved.