Aus Italien, Op. 16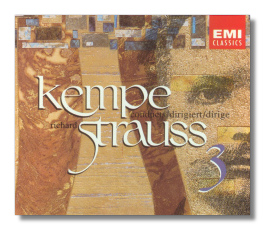 EMI CMS764350-2
Rudolf Kempe/Dresden State Orchestra (1975)
For a work so neglected, Schwann Opus lists at this time no less than three versions (the other two conducted by Järvi and Kosler). Does this herald a comeback for one of the most ridiculed of Strauss' large orchestral creations? A crucial stopping point on the way to Don Juan, it is a lovely, charming work in its own right. Schumann's Rhenish symphony, Liszt, and Wagner lurk in the background, as does the obvious inspiration of Mendelssohn's Symphony No. 4. The first movement comes up with a haunting Wagnerian harmonic progression (Wagner, circa Tannhäuser). The second movement works up a convincing bustle. The third, the most mature, shows you a glimmer of the Strauss you know: thematic interest is enhanced by unusual orchestral effects, prophetic of the Alpensinfonie. The weak final movement, a tarantella based on the song "Funiculi, Funicula," does not flounder due to Strauss' choice of material, as some commentators assert. Indeed, I assume the song's kitsch has faded for most, and, besides, Strauss' treatment constantly surprises you. However, he fails to come up with enough interesting material for the movement and resorts to half-heartedly bringing back earlier themes to supply the lack. The movement consequently degenerates to some exuberantly crude mere orchestration in a few places.
Järvi does a good job holding things together, but he sounds as of he's presiding over a business-like read-through. Kosler's performance is scrappy and the joins show. Kempe, on the other hand, demonstrates real affection for the work. The beauties come through, and he manages to glide over the weak transitional passages. Most important, he doesn't try to turn it into mature Strauss by pumping up the Wagnerian elements. In the third movement especially, he gets the Dresdeners to play with quiet intensity and to produce several gradations of soft – among the hardest feats for a symphony orchestra to bring off. He achieves an orchestral balance so miraculously clear you can distinguish the different orchestral groups in the texture: it's not all solo lines occasionally bobbing to the surface of an instrumental stew. The recorded sound is the usual EMI slightly-too-bright, but it's acceptable.
Copyright © 1994-2008 by Steve Schwartz & Classical Net. All Rights Reserved.