In Parts 1 thru 6 I reviewed eleven piano versions of Bach's WTC II. The impetus for Part 7 comes from my buying Robert Levin's new WTC II on Hänssler. In addition, I'll also be reviewing Keith Jarrett's harpsichord reading of Book II and that of João Carlos Martins on piano.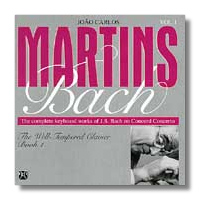 I won't let these three versions off easy just through a comparision to one another. I will also compare them to the best versions of each prelude and fugue I identified in my original survey (Parts 1-6).
Levin's set requires some comment because of his decision to use four different instrument types: harpsichord, organ, clavichord, and fortepiano. Since mentioning this fact in an earlier review, I've had the opportunity to read Levin's liner notes. His reasoning is based on aesthetic/musical considerations. I'll be providing my opinion of his choices as the review progresses.
As for Jarrett, he chose to record Book I on piano, and it is a fine set. I always find Jarrett a highly musical artist with a penchant for smoothly flowing performances. Martins is considered by some to be a romantic Bach performer, and that is usually not meant as a compliment. Others have offered their high opinion of Martins as a masterful Bach interpreter.
Prelude & Fugue in C Major – The Prelude is lovely, with great joy and longing; for me, the highlight of the music is its descending chromatic lines. Martins, Jarrett, and Levin are competitive but not at Gould's or Aldwell's level. Martins has a fantastic and assertive opening, but then slows down and disturbs the music's flow; his descending chromatic lines are wonderful. Jarrett, with great and quick pacing, smoothly moves along; the problem is that he provides little in the way of nuance. Levin uses the organ because of suspensions and a pedal note; he also states that the prelude is "spacious". I agree with that description but end up being a little skeptical that the best instrument for spacious music is always an instrument which has a spacious sound – too much of a good thing. So while I feel that Levin is somewhat swimming against the tide, his performance is still very good; I can't deny that the pedal note is very effective. Of the three, I'd go with Martins.
The Fugue in C Major is wild and fast music with tremendous energy and tension which keeps being built up and released. Gould and Schepkin give outstanding readings with great momentum. Jarrett and Levin, although enjoyable, don't come close to the best; neither one displays significant abandon nor tension. Martins is not competitive at all; he sounds uncomfortable with the music's thrust and not of one mind as to how to play the piece. I doubt that I'll be listening soon to any of these three versions.
Prelude & Fugue in C minor – The Prelude is energetic, playful, and has passages of strong urgency. Outstanding performances range from Gulda's razor-sharp counterpoint to Angela Hewitt's beautifully flowing account of great urgency. Jarrett is in this kind of company with an irresistible pace and inner sparkle that's very uplifting. Martins and Levin are fast but otherwise routine. Levin plays a double-manual harpsichord for "changing registers in the repetitions".
The Fugue in C minor is a beautiful and serious piece emphasizing inversion and augmentation. Levin's is a superb reading on harpsichord which stands tall next to Nikolayeva and Gulda. Jarrett is too fast and superficial; Martins, as in his Prelude in C Major, has his "slowdowns" which damage the music's flow. I hope this won't be a habit with him.
Prelude & Fugue in C sharp – The Prelude is a lovely and pensive adagio followed by a powerful allegro. My favorites have been Aldwell with a dream-like adagio and Gould's swaggering and unique adagio combined with his virtuoso and thrilling allegro. Jarrett belongs close to this company; his adagio is hypnotic, and the allegro only is lacking compared to Gould. Martin's adagio lacks variety, but the allegro is very poetic without losing strength. Levin uses a clavichord, and I don't find it advantageous; the allegro has a strength not well suited to the clavichord. Also, Levin tends to rush through the adagio.
The C sharp Fugue is one of my favorites. Its combination of playfulness and urgency is stunning, and the stretti are very effective. Wonderful performances by Gould, Fischer, and Aldwell would be very difficult to match, and the three under review pose no competition. Jarrett is the least enjoyable with a very fast tempo which sounds rushed. Martins is very good except for times when he plays much too softly. Levin, like Jarrett, is fast but he doesn't lose the pulse of the music. I just don't care for the clavichord in this music either; the piece has a vitality and spring to it which I feel is better suited for the harpsichord.
Prelude & Fugue in C sharp minor – The Prelude represents highly melancholy and poignant music which has an irresistible urgency. Recent favorites are Fischer and Schepkin; Levin is every bit as good. He uses a fortepiano which I find perfect for the music; both Levin and his instrument highlight the urgency superbly. Martins is very good except that he uses a distracting halting pace to the movement's most poignant passage. Jarrett gives a fine mainstream reading.
The C sharp minor Fugue is probably the most thrilling Bach keyboard piece I know. I think of it as the "cataclysmic upheaval" fugue. Gould is my standard, and it's hard to imagine anyone else providing so convincing and thrilling a reading. But, Levin comes pretty close with a fortepiano which has a macabre aura to it. Gould comes in at under 2 minutes, Levin slightly over 2 minutes, and Martins uses up the grand total of over 3 ½ minutes. He transforms the music from catastrophe to melancholy and nostalgia. It works very well, but there are simply passages that cry out for power and speed. When those points hit, the performance loses focus. Jarrett's version is also a good one, as he tries his best to make the piece into happy and smoothly flowing music. This approach also works well but ultimately lacks the impact of Levin's performance. Gould still reigns.
Prelude & Fugue in D Major – The Prelude is joyful and bubbly music. I have found Gould's reading the best on record as he reveals a wealth of detail and provides an aristocratic reading. Although not at Gould's level, Jarrett offers a very happy performance with fine pacing and bounce. Martins and Levin are not very good. Martins, at first, sounds like he's just "tossing off" the music; later, he indulges in destroying the pacing and dynamics. Levin uses the organ because of the D Major key representing, in his opinion, "fanfare" type music. That sounds fine, but his organ does not in that hardly any detail can be heard with its swimming acoustic. Further, Levin takes the bounce out of the music.
Stretti is the basic ingredient of the Fugue in D Major which is one of Bach's best keyboard pieces. Gould's swaggering account and Tureck's highly meditative reading are outstanding. Levin and Jarrett can be added to this high level. Jarrett, like Gould, is quick; although not a performance of depth, his beat is infectious and the stretti just have to be heard. Levin's choice of the organ pays major dividends; its full and rich texture is perfect for this fugue. Also, Levin digs very deeply into the music's emotions. Martins is not competitive. Once again, he shoots himself in the foot. He is sailing along splendidly with a slow and introspective reading similar to Tureck's, then hits the "over the top" button by playing much too loudly and displaying a totally uncalled for level of emoting. I really hate what Martins does to this fugue after starting off so well. Overall, Martins is not gaining my admiration. He does peculiar things which I don't like, and his performances of the pieces which require power and speed are not good. So far, he has not been among the best versions in any prelude or fugue, but he has been non-competitive in half of them. What I find really frustrating is that when a piece comes along that should be just up his alley, he finds a way to screw it up (or so it seems). At the moment, I'm very glad I bought his set in the used bins.
Prelude & Fugue in D minor – The Prelude is powerful, fast, and loaded with magical moments. Jandó highlights those moments to perfection, and Tureck's reading is high on suspense with a sinister impact. Martins continues having problems; there's no magic and he seems uncomfortable with the power and speed of the music. Jarrett does well with a macabre sound, but there's little abandon in his reading. Levin is the equal of Jando/Tureck; the urgency in his performance is magic on its own, and the fortepiano is a great instrument to express urgency.
The Fugue in D minor has great tension and urgency; a macabre atmosphere adds to a great performance. Technically, the piece is based on rising triplets and a descending chromatic lament/sigh. Gould, Nikolayeva, and Tureck have been my standards, and there are now two more. Martins finally performs superbly throughout with a slow tempo. Levin uses a quick tempo to present a very strong sense of tension and urgency; he considers the fortepiano ideal for this fugue, and I fully agree. Jarrett is quick but superficial; any conveying of tension and the macabre is slight.
Prelude & Fugue in E Flat Major – The Prelude is such a joyful piece of music providing a canvass of seamless serenity and delicacy. Schepkin's superbly paced reading and Aldwell's dreamy/slow and detailed interpretation are my favorites. This fugue is a perfect vehicle for Jarrett with its seamless flow and joyful theme. Martins starts off great with a slow tempo, but he then engages in a few hesitations which damage the pacing and an ill-judged staccato. Still, his version is very rewarding. Levin delivers about the worst performance of any music I've ever heard. His organ sounds terrible in the higher registers, and I'd swear he's playing in the wrong key. He transforms this gorgeous music into a circus act.
The affirmation of life is my take on the Fugue in E flat major, and Jarrett matches Fischer's superb version in conveying this image to me. Levin is almost at the top, but the highest organ notes are distracting and somewhat piercing. Martins doesn't convey much affirmation – too much of a surface reading, and Martins can't afford it. I've been trying to get a handle on his strengths and have concluded that slow and deep is where he needs to concentrate. Jarrett can give a surface reading and still be very enjoyable; Martins can't do it.
Prelude & Fugue in D sharp minor – There's something else Martins can't afford to do: skip repeats. So perhaps, this is a new trait that we'll see from him more often as the survey progresses. Both Hewitt and Tureck are in the 4 minute range; Martins comes in under 2 minutes. It's not just repeats. He's much too fast and can't even keep the tempo straight. Levin isn't as bad as Martins, but he's also too speedy. Jarrett is competitive but doesn't provide the richness of emotions that Tureck and Hewitt give.
The Fugue in D sharp minor is dark and mournful music, but the few rays of light are stunning and make this four-voice fugue one of Bach's best. Jandó and Nikolayeva have the full measure of the music, displaying superior balance between tension and poetry. Levin is also outstanding. Although Jarrett is fine, he can't provide the intensity of Levin. Martins is worthy, but I find him too forceful. He must gravitate toward "theatrical" mourning; I like to keep it quiet.
So far, Levin's set is very interesting and equally enjoyable. His performances don't tend to be good ones; they're usually either outstanding or not to my liking. I haven't found the clavichord selections enjoyable, but those on fortepiano have been fantastic. This set is definitely not predictable. In addition to the variety of instrumentation, Levin's style and interpretive decision making encompass a wide latitude; I never know what's coming next, and that's good. He has clearly analyzed each prelude and fugue and decided what style and instrument will work best in each case.
Copyright © 2000, 2001 by Don Satz.