Book Review
Benjamin Britten and Russia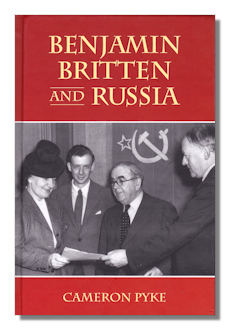 Aldeburgh Studies in Music
Cameron Pyke
Boydell Press (August 18, 2016) xvi + 367
ISBN-10: 1783271132
ISBN-13: 978-1783271139

Few would deny that Benjamin Britten (1913-1976) was one of the finest composers of the last century; as were Shostakovich (1906-1975), Stravinsky (1882-1971) and Prokofiev (1891-1953). Similarly that Peter Pears (1910-1986) set standards for the tenor voice that still apply. As arguably did Sviatoslav Richter (1915-1997) for the piano; and certainly Mstislav Rostropovich (1927-2007) for the cello. Rostropovich's wife, soprano Galina Vishnevskaya (1926-2012), also figures prominently in any survey of twentieth-century vocalists. A thorough, well-written and comprehensive book from Boydell by Cameron Pyke, a teacher and lecturer specializing in Russian Music, "Benjamin Britten and Russia" explores how and why Britten was attracted to Russian culture – especially its composers, musicians and writers; and how the English composer's "school" and circle benefited from the extended and enduring relationships which grew from Britten's (and Pears') earliest contacts with Russia. Britten was born, after all, in the penultimate year of Diaghilev's pre-First World War seasons with the Ballets Russes in London and died the year after Shostakovich did.
Britten's closest affinity was with Shostakovich. The two met both in the USSR and Suffolk several times. Interestingly, Pyke situates the attraction of Britten to Shostakovich in the context of the former's love of Tchaikovsky. For Britten, Prokofiev was something of an enigma, while Stravinsky evoked a more ambivalent response in Britten: they shared an appreciation of classicism over late Romanticism. Britten also disliked Mussorgsky – partly because of an overt nationalism of which Britten was wary; and partly because Britten found Mussorgsky a composer whose technical prowess was lacking when measured against the goals which he set himself.
Inevitably, the events in the Soviet Union, and for that matter in Britain, loom large in this book. The music of both Britten and Shostakovich (and less clearly Prokofiev) reflected, criticized, lamented, reviled, and attempted to ignore life around them. But that was impossible. So Pyke chooses to explain how life and art interact in this respect. He succeeds admirably. He also looks at the extent to which both the Russian musical tradition(s) influenced Britten – and, perhaps surprisingly, how Britten affected such later composers as Schnittke.
But Pyke is on totally solid ground from the very start of this intriguing, informative and imaginative book. He begins it with seven varied quotations illustrating the richness of response from non-Russians to Russia and carefully crafts a definition, a psychological – certainly a socio-psychological – "reason" for the attraction of Russian culture which composers and performers, mostly of the (late) nineteenth and twentieth centuries, felt. Nor does Pyke shy away from the excesses of the Soviet era and geopolitical considerations. But then neither does the Russian spirit itself. Indeed much music of the period (Shostakovich being the prime example) was built largely on and around individual and collective reactions to life in Soviet Russia in the middle of the last century.
Britten emerges from this study, though, as an expert who is focused and unwilling to stray outside areas of his competence. He insisted that ultimately it's artistic connections that count. Pyke examines, for example, the Third Cello Suite's use of three folksong arrangements by Tchaikovsky. After considering 20 possible such sources, Britten went out of his way to select intervallic contours and rhythmic character that best captured the essence of Tchaikovsky's writing.
In other words, mere imitation – even dry adulation – were not on Britten's mind. Admiration, Yes – as is evident from the relationships that he and Pears formed with the Rostropoviches and other performers. Analogously, Britten clearly allowed himself to fall under the spell of other Russian composers not of his generation – even Mussorgsky… Vishnevskaya is quoted [p 59] as being convinced that her performance of the "Songs and Dances of Death" in 1961 at Aldeburgh informed the declamatory style of the soprano part in the War Requiem, which was written for her, of course.
The substantive 350 pages of "Benjamin Britten and Russia" (there is an excellent and comprehensive index) consist of eight chapters ranging in length from around 25 to 50 pages each dealing with a different aspect of this fascinating relationship. Namely, Britten's lifelong Russophilia, its origins and scope; the three Russian composers:
Britten and Shostakovich, a relationship which lasted over 40 years, from 1934 to 1976; this rightly receives the lion's share of Pyke's attention
Britten and Prokofiev
Britten and Stravinsky
Then the topics of hospitality and politics, the inspiration of Pushkin in a chapter called "Pushkin and performance"; and a final assessment. The dozen or so appendices consist of recent interviews and letters with, by, to and from relevant figures of the time as varied as the English National Opera director, Earl of Harewood, Charles Mackerras, Gennady Rozhdestvensky and Irina Antonovna Shostakovich. These occupy 50 pages and are followed by an unannotated, though meticulously compiled, and usefully categorized bibliography of 20 pages, which includes sources and a discography.
Even the best-informed reader will learn something new, or see a paradox explained (such as the musical relationship between Shostakovich, Britten and Mahler) throughout the length of the book. Pyke's style is lively yet clear and highly revealing. One of the theses which he supports particularly well is Britten's intention to advance appropriate Anglo-Russian relations. Not, though, overtly political or diplomatic ones – even in the years of the "thaw" after Stalin's death; but because artistic endeavor and creativity deserve to be considered as operating in a different realm. The Poet's Echo from 1965, a cycle to Pushkin's verse, was clearly inspired – or at least stimulated – by the period Britten spent in Armenia (it was written there in 1965 at the Composers' Colony for Creative Work in Dilizhan). But it was also – as Pyke carefully explains and illustrates – a tribute to the greatness of Pushkin as a Russian, not a trite compliment for its own sake.
Conversely – or perhaps analogously – Britten insisted on maintaining (these artistic and performance) relationships with Russian performers and composers during periods when the majority of official and public attitudes in Britain were consistent with Cold War "policy". This was that Russia was somewhere to be abhorred and reviled. This somewhat unusual position of Britten and Pears has to be seen in the context of an admiration for and appreciation of wider Russian culture which began long before Britten was born, in the later nineteenth century. The book also includes illustrations of 2-D and 3-D art objects to supplement the many musical, and literary, references.
Yes, Britten was in this tradition. But his love of the music, literature and fine art of Russia was no dutiful attempt to preserve, continue or expand it. It was much more subjective. Typical of the composer, it was complex… Pyke paints a detailed yet completely comprehensive picture of the intricacies of Britten's relationship with Shostakovich and Stravinsky in particular. To remember that – for Britten – it was the importance of melody, thematic originality, musical insight which also happened to be Russian is to understand the relationships. For him, the composers (and performers) whose work he was so attracted to did not produce what they produced simply because they were Russian. But they were Russian and their work could not have been any other than it was. Hence the appeal.
Analogously, Pyke gives superb assessments of the extent to which the impact of Russian music on Britten in turn influenced the later Russian composers like Schnittke. And hints (perhaps more space would usefully have been devoted to this) at Britten's current reception in Russia, 40 years after his death. He also discusses frankly, and in a highly-nuanced way, the element of attraction which Britten felt for Russian culture which was based on his sense of its "otherness", a romantic veil, almost. To understand Russia in all its greatness is also to acknowledge that it is an Eastern culture as much as it is a European one. But then Pyke goes on to describe how it matured and developed – particularly after Britten first visited the Soviet Union, in 1963. Essentially, Pyke suggests – with ample reference to Britten's compositions – Russian culture was an intriguing and fresh contrast to his position as an "established" composer. Undoubtedly, both Britten's and Pears' adherence to social justice and progressive politics drew them to many aspects of Russian culture. But Pyke is at pains meticulously to set composition and artistic dynamic above these. Direct, specific, influences – such as those adumbrated on page 279, for instance – make interesting reading: some are obscure, some more transparent.
One of the most remarkable aspects of the way Pyke covers this subject is his use of quantitative data, which he then interprets globally and as data which illuminates – often apparently empirically – a thread or theory. For instance, on page 21 there is a table of references which Britten makes in his diaries, year by year from 1928 to 1938 of ten of the most prominent (recent) Russian composers… Stravinsky is followed closely by Tchaikovsky. Pyke draws on files from Foreign Office, British Council and at the National Archives as primary sources, as well as published and unpublished documents from the former Soviet Union, including the Shostakovich Family Archive; oral history is also used – as is material from other archives relevant to Britten.
The production of this book (the hardback version was received for this review) is well up to Boydell's high standards. Research, cross-referencing and attention to detail without losing sight of the main themes of the book are excellent. The (monochrome) photographs have been chosen to highlight the humanity (Shostakovich looks troublingly gaunt in the group picture with Irina, Vishnevskaya and Britten on page 256) and interpersonal warmth of the musicians discussed. These graphics are for the most part clear (the reproduction of the Red House guestbook on page 140 lacks a little contrast – a small matter); and the musical examples are crisp and legible. These are used judiciously and always make their point.
Similarly, such tables as those with chronologies of Britten's acquisition of Shostakovich's string quartets and a side-by-side comparison of each composer's chamber music [pp 256,7] are unexpectedly illuminating. While it would thus be possible to browse or dip into this study, given the wealth of primary sources reproduced, more will be gained by following Pyke's illuminating and amply-supported theses and narratives about what – by the time you've finished reading "Benjamin Britten and Russia" – will be a revealing, perhaps even surprising, skein of creative, personal and politico-geographic relationships, influences and common goals.
It's unlikely that this ground will be covered again by writers also alive during (at least a part of) the time about which they're writing. Even less likely that anyone could do so as compellingly, convincingly and comprehensively as Cameron Pyke has done. Benjamin Britten and Russia is a book that cannot be recommended too highly for anyone interested in, really, the widest areas of twentieth-century music as well as Britten and his Russian counterparts detailed with such suave and careful attention and at the same time in such an accessible manner. On completing the book, you're likely to have been reminded of just how much ground has been covered, and how well – so important and influential are its subjects.
Copyright © 2017 by Mark Sealey.